Regional Territories 4
This section contains monthly articles on over two dozen territories. To relive those wonderful days of old, click here.
Wrestlers 4
Enter this section for bios/profiles of various wrestlers from the regional days. To find more out about your favorite pro wrestler, click here.
Stories 4
This section contains stories from the pros themselves told exclusively to Kayfabe Memories. Want to know more as told from the wrestlers themselves? Click here.
Old School Book Reviews4
Click here to find various book reviews from old school wrestlers.
KM Links 4
For tons of links to old school related sites, click
here
.
KM Micro Wrestlers4
What are Micro Wrestlers? Click here
to find out.
KM Interviews... 4
Click here to read exclusive interviews with stars from the regional territories.
www.kayfabememories.com is © 2004 AtomDesigns. All promotional art, characters, logos and other depictions are © their respective owners. All Rights Reserved.
All contents save Wrestler Stories are © Kayfabe Memories.
Website designed and maintained by AtomDesigns © 2004 . If you experience any problems with this site or have any questions, please contact the Webmaster.
- Scott Keith
The Crockett Cup was a tag team tournament held over a series of weeks with a trophy and a check for a million dollars for the winners. Not all the tournament matches are featured on the tape, though, so it's more of a sampling of the tournament, along with some extra matches thrown onto the tape that weren't part of the tournament, but were held in the same venues as some of the tournament matches.
*Your hosts are Jim Ross and Tony Schiavone.
* Jimmy Valiant and The Mighty Wilbur vs. Dick Murdoch and Ivan Koloff: Wilbur is a fat guy dressed like a hillbilly, proving that hillbillies weren't just limited to WWF at that time. Gee, now I wonder whose bright idea it was to bring hillbillies to the NWA? Lots of stalling by Valiant and no-selling by Wilbur, and it ends when Koloff hits Valiant with a clothesline for the pin. Mercifully, the match was clipped. DUD
* Rick Steiner and Mike Rotundo vs. Ron Simmons and Steve Williams: Rotundo, Steiner, and Kevin Sullivan were the Varsity Club, and Williams has not yet become a full-fledged member at this point. Another clipped match, with Simmons playing Ricky Morton (Simmons was in great shape and a solid worker back then). Williams eventually gets pissed off enough at the double teaming on Simmons to clean house on the heels. However, he's not the legal man in the ring, so while he pounds on Rotundo, Sullivan nails Simmons outside the ring and he gets counted out. OK match, bad ending. *
* Tully Blanchard and Arn Anderson vs. Kendall Windham and the Italian Stallion: Kendall and Stallion were jobbers, although Stallion was one of my favorites. Clipped match once again, and the faces actually get a pretty good amount of mat wrestling and offense on the Horsemen. Kendall plays face in peril, until the hot tag is made to the Stallion. But the Stallion puts his head down for a back body drop, and Arn makes him pay with a DDT for the pin. Actually a decent match. **
* The Road Warriors vs. The Jive Tones: The Jive Tones were jobbers Pistol Pez Whatley and Tiger Conway, so as you might expect, this match is Squash City. Thank God it was clipped. Hawk pins Whatley after a flying clothesline. DUD
* The Fantastics vs. Al Perez and Larry Zybsko: The Fantastics were Tommy Rogers and Bobby Fulton, and were a pretty solid team for their time. It is weird to see Larry with all that hair on his head. Nice little back and forth match ends as Zybsko and Perez try a double back body drop on Fulton, but Fulton tries an inside cradle on Zybsko. Perez tries to break it up, but gets dropkicked by Rogers, and Zybsko gets pinned. **
More...

KM DVD/VHS Store 4
Click here to purchase DVD or VHS products direct from the official distributors.
KM Replica Masks 4
Click here to purchase pro quality replica wrestling masks of all your favorite old school masked wrestlers.
KM Store 4
The KM Store now features products featuring the GCW logo as well as some other very cool images. To see what's new and to purchase T-Shirts, ball caps, mouse pads and more, click here.
KM Message Board 4
Want to chat with other fans of regional wrestling? This message board has forums for over two dozen promotions. Click here.
KM Belt Gallery 4
This section contains an extensive title belt gallery... images of heavyweight, tag, U.S. and various regional title belts. To view it, click here.
Old School Tape Review 4
Reviews of various PPV's, commercial tapes and regional wrestling TV shows are available in this section. To read more, click here.
Website designed & maintained by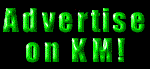 Thanks for visiting!