Regional Territories 4
This section contains monthly articles on over two dozen territories. To relive those wonderful days of old, click here.
Wrestlers 4
Enter this section for bios/profiles of various wrestlers from the regional days. To find more out about your favorite pro wrestler, click here.
Stories 4
This section contains stories from the pros themselves told exclusively to Kayfabe Memories. Want to know more as told from the wrestlers themselves? Click here.
Old School Book Reviews4
Click here to find various book reviews from old school wrestlers.
KM Links 4
For tons of links to old school related sites, click
here
.
KM Micro Wrestlers4
What are Micro Wrestlers? Click here
to find out.
KM Interviews... 4
Click here to read exclusive interviews with stars from the regional territories.
www.kayfabememories.com is © 2004 AtomDesigns. All promotional art, characters, logos and other depictions are © their respective owners. All Rights Reserved.
All contents save Wrestler Stories are © Kayfabe Memories.
Website designed and maintained by AtomDesigns © 2004 . If you experience any problems with this site or have any questions, please contact the Webmaster.
- John Baumer
---Opening montage, letting us know Portland Wrestling is brought to you by Tom Peterson's, as if anyone on Earth didn't already know that.
---Don Coss opens the show. He puts over how exciting the Ginger/Veronica match was that we missed since we didn't come to the arena live. He announces that Curtis Thompson, "who you may remember from Ted Turner's superstation", will be making his debut next week. He says next Thursday in Salem, Scotty the Body will be defending the PNW title against the Grappler. He recaps what happened last week after the show ended. The Wrecking Crew seriously injured Billy Jack Haynes. Haynes did the stretcher job and will be out of action for about four weeks. Next Saturday is the last time you can see the Southern Rockers before they leave on their world tour. He introduced Bill Prescott, who will manage the Rockers tonight. Prescott was a popular DJ who often times had the wrestlers on his show. Years later, KUFO would replace Prescott's show with Howard Stern's and Prescott faded away into obscurity. Grappler and Adams interrupted and ran Prescott off. Adams cut a promo about how he injured Billy Jack.
---Match #1: PNW champion Scotty the Body vs. Jeff Warner. During the ring intros, Don Owen put over the debut of Curtis Thompson next week. Coss put him over during the match as well, claiming he was really making waves over on the east coast. Jonathan Holliday came to ringside again to cheer on Warner. Finish sees Scotty DQ'd for snatching Holliday's umbrella and attacking Warner with it. Warner comes back and drives Scotty from the ring. Holliday raises Warner's hand, but Warner is outraged and chases Holliday to the back with the lethal pink umbrella.
---Veronica is the guest on Al Madril's Fiesta Garden again this week. Madril says Veronica's hair is so pretty she should let him cut the ribbon off and let it down. She agrees and he puts over how beautiful her hair is. They run down the week's events. Monday in McMinnville will have a logger's match with Rip Oliver vs. the Grappler. Tuesday in St. Helens will have the Southern Rockers vs. Grappler & Equalizer. Wednesday in Hillsboro will have a bunkhouse tag match with the Wrecking Crew vs. Rip Oliver & Beetlejuice. Thursday in Salem will have Scotty the Body vs. the Grappler for the PNW title and Al Madril vs. Rex King for the T.V. title. Friday in Hood River will have an autograph session with the Southern Rockers and something called a Rocker Rumble. Scotty comes out and tells Madril to get off his broad. He talks about Curtis Thompson and says he is better than him. Ginger comes out and throws a pie in Scotty's face. Scotty grabs Ginger and Veronica cuts a chunk of hair off her. Steve Doll makes the save.
---Match #2: Al Madril vs. Bill Francis. Coss announces that in a few weeks Ricky Santana will be returning to the PNW. Scotty asks if he is another "burrito muncher." Coss says when Santana arrives, Veronica will forget all about Scotty. Madril did the classic heel spot where he would use a foreign object, but keep hiding it in a different spot so the ref could never find it. Finish sees Madril punch Francis in the throat with the object while Francis was press slamming him. Madril fell on Francis and scored the pinfall.
---Coss interviews Ginger, Scott Doll, & Don Owen. Ginger asks to go one on one with Veronica in every town this week, plus a hair match next week at the Sports Arena. Owen agrees and the match is set. Doll proposes that Scotty should be in the rat cage next week during the Veronica/Ginger match so he can't interfere. Owen agrees to that as well. Coss asks Owen if that match will be on T.V. Owen says no because he decided long ago not to have women on T.V. because this is wrestling and it wouldn't be practical. Plus I believe KPTV had some sort of rule against it. A rule which was lifted since this match did air on T.V. and later the next year Terri Power and Judy Martin were on T.V. several times.
---Coss introduced rehash of the Grappler/Rip Oliver segment from last week
---Match #3: Rip Oliver vs. the Equalizer. Prior to the match, the Grappler puts over the $5,000 bounty he put on Oliver's head. Coss puts over Equalizer's tough guy gimmick, which is he was banned from the NFL and from wrestling in the midwest. We get a split-screen promo from Scotty and Veronica about the hair match next week. Finish sees Oliver unleashing upon Equalizer. He brings Grappler into the ring and does a number on him. Grappler and Equalizer both retreat and Oliver gets a countout win. More...

KM DVD/VHS Store 4
Click here to purchase DVD or VHS products direct from the official distributors.
KM Replica Masks 4
Click here to purchase pro quality replica wrestling masks of all your favorite old school masked wrestlers.
KM Store 4
The KM Store now features products featuring the GCW logo as well as some other very cool images. To see what's new and to purchase T-Shirts, ball caps, mouse pads and more, click here.
KM Message Board 4
Want to chat with other fans of regional wrestling? This message board has forums for over two dozen promotions. Click here.
KM Belt Gallery 4
This section contains an extensive title belt gallery... images of heavyweight, tag, U.S. and various regional title belts. To view it, click here.
Old School Tape Review 4
Reviews of various PPV's, commercial tapes and regional wrestling TV shows are available in this section. To read more, click here.
Website designed & maintained by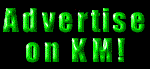 Thanks for visiting!