Regional Territories 4
This section contains monthly articles on over two dozen territories. To relive those wonderful days of old, click here.
Wrestlers 4
Enter this section for bios/profiles of various wrestlers from the regional days. To find more out about your favorite pro wrestler, click here.
Stories 4
This section contains stories from the pros themselves told exclusively to Kayfabe Memories. Want to know more as told from the wrestlers themselves? Click here.
Old School Book Reviews4
Click here to find various book reviews from old school wrestlers.
KM Links 4
For tons of links to old school related sites, click
here
.
KM Micro Wrestlers4
What are Micro Wrestlers? Click here
to find out.
KM Interviews... 4
Click here to read exclusive interviews with stars from the regional territories.
www.kayfabememories.com is © 2004 AtomDesigns. All promotional art, characters, logos and other depictions are © their respective owners. All Rights Reserved.
All contents save Wrestler Stories are © Kayfabe Memories.
Website designed and maintained by AtomDesigns © 2004 . If you experience any problems with this site or have any questions, please contact the Webmaster.
- John Baumer
---Opening video
---Don Coss opens up the show from the crow's nest and talks about the big event this Tuesday night at the Memorial Coliseum.
---Match #1: Buddy Rose vs. Steve Simpson. The match takes forever to get under way because the ringside PA mic isn't working. Finally, Owen used a mic plugged into the T.V. cameras to make the ring intros, although the live crowd couldn't hear them. Rose destroys Simpson, the entire time yelling, "Where's Roddy Piper?" Piper is Rose's opponent at the Coliseum. Despite being the biggest heel in the business at the time in the WWF, Piper was a full fledged babyface for his return to Portland and match with Rose. At one point, Rose actually left the ring and walked all the way up to the announce booth just to make a remark about Piper. The finish sees the time limit expire just as Rose was pinning Simpson following a DDT.
---Coss runs down the upcoming events: Sunday in Finley, Monday in Yakima, Tuesday in Portland at the Memorial Coliseum, Wednesday in Seattle at the Seattle Center Arena, Thursday in Salem, Friday in Eugene, and next Saturday all kids are free at the Sports Arena.
---Coss shills all the official merchandise for the Don Owen 60th Anniversary Extravaganza at the Memorial Coliseum Tuesday night. A hat, an autographed t-shirt, and a program were available. Coss ran down the card: NWA World champ Ric Flair vs. Billy Jack Haynes, AWA World champ Rick Martel vs. PNW champ Mike Miller, AWA World tag team champs the Road Warriors vs. Larry & Curt Hennig, Rowdy Roddy Piper vs. Buddy Rose, Sgt. Slaughter vs. Kendo Nagasaki, the battling midgets, and five matches featuring the local talent. Coss claimed this was the first time three world titles were on the line on the same card and it would be the biggest wrestling event ever held. Now, that may not be true, but this was a pretty big event. It featured wrestlers from all three major companies, WWF, NWA, and AWA, as well as all the local boys and sported a gigantic 11 match card. At this point, there were about 7,000 tickets left to be sold for the 13,000 seat arena. The promoters were very worried the show was going to be a huge failure. However, the show ended up selling out and was the single biggest success in the history of the territory.
---Match #2: Jerry Gray vs. Ricky Vaughn. Oh boy! It's time for the "technical" wrestling match of the week, i.e, a babyface borefest. After he made the ring intros, Don Owen claimed these two would be two of the biggest stars in wrestling someday and said the technical matches were his favorite and hoped the fans liked them too. The fans never liked them, yet we got them almost every week. As always, it ends in a time limit draw.
---Coss introduces a video of Billy Jack Haynes preparing for his NWA World title match Tuesday night. Haynes is at his home in Oregon City and shows a tape of his last World title shot, which ended in a DQ when Rip Oliver attacked him moments before he had the championship won with the full-nelson. Haynes promises to win the title with the full-nelson at the Coliseum. Haynes is shown working out to some great 80s "porn-type" music. A clip of Haynes beating up Rip Oliver is shown for some reason, followed by Haynes reading a letter from the Governor while sitting on the hood of his Porsch. That just goes to show how big this show was, that Billy was getting letters from the Governor wishing him luck against Flair.
---Match #3: Billy Jack Haynes vs. Diamond Timothy Flowers. Basic squash match for Haynes and he gets the win with the full-nelson.
---Coss shows some photos of Piper, Slaughter, and the Road Warriors before introducing a video taped interview from Ric Flair. Flair puts over what a big show it is going to be Tuesday night. Flair said Portland, Oregon dozens of times in this promo and pronounced Oregon wrong every single time. Quick lesson for everyone out there: Oregon is not pronounced "Orygone." More...

KM DVD/VHS Store 4
Click here to purchase DVD or VHS products direct from the official distributors.
KM Replica Masks 4
Click here to purchase pro quality replica wrestling masks of all your favorite old school masked wrestlers.
KM Store 4
The KM Store now features products featuring the GCW logo as well as some other very cool images. To see what's new and to purchase T-Shirts, ball caps, mouse pads and more, click here.
KM Message Board 4
Want to chat with other fans of regional wrestling? This message board has forums for over two dozen promotions. Click here.
KM Belt Gallery 4
This section contains an extensive title belt gallery... images of heavyweight, tag, U.S. and various regional title belts. To view it, click here.
Old School Tape Review 4
Reviews of various PPV's, commercial tapes and regional wrestling TV shows are available in this section. To read more, click here.
Website designed & maintained by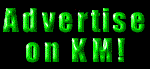 Thanks for visiting!