Regional Territories 4
This section contains monthly articles on over two dozen territories. To relive those wonderful days of old, click here.
Wrestlers 4
Enter this section for bios/profiles of various wrestlers from the regional days. To find more out about your favorite pro wrestler, click here.
Stories 4
This section contains stories from the pros themselves told exclusively to Kayfabe Memories. Want to know more as told from the wrestlers themselves? Click here.
Old School Book Reviews4
Click here to find various book reviews from old school wrestlers.
KM Links 4
For tons of links to old school related sites, click
here
.
KM Micro Wrestlers4
What are Micro Wrestlers? Click here
to find out.
KM Interviews... 4
Click here to read exclusive interviews with stars from the regional territories.
www.kayfabememories.com is © 2004 AtomDesigns. All promotional art, characters, logos and other depictions are © their respective owners. All Rights Reserved.
All contents save Wrestler Stories are © Kayfabe Memories.
Website designed and maintained by AtomDesigns © 2004 . If you experience any problems with this site or have any questions, please contact the Webmaster.
- Mike Summers
- Opening titles with Tom Peterson's Superstores (which has since changed ownership).
- Don Coss opens the show with a major announcement of a Summer Extravaganza taking place on July 13, 1991. He couldn't talk about who was on the card yet, but that it would be an event that you would want to mark down. Kids were free at the Portland Sports Arena. Where in the heck was it? The Sports Arena looked more like a small gymnasium. Anyway, Don introduced Beth Cole and Bob Haberman from the Cascade Sports Car Club announcing the upcoming Sports Car Show at the Portland International Raceway which was a fundraiser for the Dornbecker Childern's Hospital. Then, the Bruise Brothers, the PNW Tag Team Champions, talked about how Steve Doll, the PNW Heavyweight Champion, is supposed to be the champion and told Don Owen to strip him of the title an give it to Ron Harris, who Doll was wrestling in a non-title match. Sounded like they were trying to dictate what went on in Portland. Doll came out and made a deal with the Brothers that if Doll won, he and Demolition Crush would get a shot at the tag team titles the following week and if Ron won, then Ron gets a shot at the heavyweight title.
- Coming back from commercial, the first match featured Pretty Boy Doug Masters against Mike Winner. Winner went on to compete in WCW while Masters went to Puerto Rico and nobody knows whatever happened to him. The match went the full extent of the 15-minute time limit. Coss continued to talk about that night's card and the July 13th extravaganza. He received word of a name that will be Portland for that show, but could not divulge the information. Not too many secrets these days.
- Coss interviewed Jimmy Jack Funk about the upcoming matches in Hood River, Milton-Freewater, Salem, Eugene, Roseburg and (of course) the Sports Arena. Doll and Crush joined in the interview, then out came Bart Sawyer excitedly mentioning the July 13th show proclaiming, "Book ya a plane, book ya a train!"
- Coss is joined at the crow's nest by Pretty Boy Masters. Match #2 on the card was scheduled to be Larry Oliver (Rip's boy) against a defiant Al Madril, who was refusing to wrestle because Don Owen "let the brats in free" and was "not going to wrestle and you can't make me". Owen threatened to "fine him so much that he won't make enough in the months to pay for it". If you asked Madril, he'd tell you that that's "big talk from an old fart". After a confrontation with Owen, Oliver held Madril for referee Sandy Barr to handcuff him to Barr to make sure he fulfilled his obligation come heck or highwater. After an Oliver clothesline, Barr counted the pin. Then, Madril attacked Barr handcuffing him to the top rope and taunted him before leaving. The match lasted about five seconds. Fans would boo wrestlers these days. Reminds me of the Undertaker-Nailz WWF match I saw in Chico, California, over a year later.
- Madril had his "Fiesta Garden" (a weak version of the Brother Love Show) and didn't want to talk about towns, rather wanted to confront Owen about the incident in the ring and continued to cry about the allowance of kids in the building free. Madril started to abuse Owen verbally and physically, until Sandy Barr ran out to save the boss. Madril then challenged Barr to a blindfold match, where the loser got a pie in the face. If it were a McMahon, the loser would be "fired".
- Match #3 pitted Steve Doll vs. Ron Harris of the Bruise Brothers (or as Owen called them, "The Twin Towers"). Owen didn't know which one was wrestling Doll. The two had a good match going until Don Harris interfered by tripping Doll. Then Crush came out to chase Don back to the dressing room. The match went well until Doll, slipped behind and cleanly pinned Ron to win the shot at the tag team titles. Masters, who was beligerant the whole broadcast, screamed that Doll had the tights and so did Ron, but the tape clearly showed that it was a clean pinfall. So much for his chances of being the next Jesse "The Body" Ventura (former PNW Champ himself).
- Coss and Barry Owen (Don's son and promoter) were joined by Doll and Crush for the contract signing. The Bruise Brothers, who claimed to be fighting champions, came out and told Barry that there was no way that they were going to defend the titles because he claimed that Doll had the tights. More...

KM DVD/VHS Store 4
Click here to purchase DVD or VHS products direct from the official distributors.
KM Replica Masks 4
Click here to purchase pro quality replica wrestling masks of all your favorite old school masked wrestlers.
KM Store 4
The KM Store now features products featuring the GCW logo as well as some other very cool images. To see what's new and to purchase T-Shirts, ball caps, mouse pads and more, click here.
KM Message Board 4
Want to chat with other fans of regional wrestling? This message board has forums for over two dozen promotions. Click here.
KM Belt Gallery 4
This section contains an extensive title belt gallery... images of heavyweight, tag, U.S. and various regional title belts. To view it, click here.
Old School Tape Review 4
Reviews of various PPV's, commercial tapes and regional wrestling TV shows are available in this section. To read more, click here.
Website designed & maintained by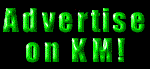 Thanks for visiting!