Regional Territories 4
This section contains monthly articles on over two dozen territories. To relive those wonderful days of old, click here.
Wrestlers 4
Enter this section for bios/profiles of various wrestlers from the regional days. To find more out about your favorite pro wrestler, click here.
Stories 4
This section contains stories from the pros themselves told exclusively to Kayfabe Memories. Want to know more as told from the wrestlers themselves? Click here.
Old School Book Reviews4
Click here to find various book reviews from old school wrestlers.
KM Links 4
For tons of links to old school related sites, click
here
.
KM Micro Wrestlers4
What are Micro Wrestlers? Click here
to find out.
KM Interviews... 4
Click here to read exclusive interviews with stars from the regional territories.
www.kayfabememories.com is © 2004 AtomDesigns. All promotional art, characters, logos and other depictions are © their respective owners. All Rights Reserved.
All contents save Wrestler Stories are © Kayfabe Memories.
Website designed and maintained by AtomDesigns © 2004 . If you experience any problems with this site or have any questions, please contact the Webmaster.
- Scott Keith

The show that was a big double-bird in the face of Jim Crockett, as Vince decided to screw with the NWA's mind by scheduling a PPV on the same night as Starrcade 87 and force cable companies to choose. As you might surmise, the WWF won that battle fairly handily.

Live from Richfield, Ohio.

Your hosts are Gorilla Monsoon and Jesse Ventura.

Opening match: Randy Savage, Brutus Beefcake, Ricky Steamboat, Jake Roberts & Hacksaw Duggan v. Honky Tonk Man, Ron Bass, Danny Davis, Harley Race & Hercules Hernandez

This is basically "Honky v. All the Guys That Hate Him", and the WWF managed to pare the list down from 140 to 5 guys. The faces start by wiping the ring with Danny Davis (the evil ex-referee) to start. Steamboat gets caught and does the RAW sell -Acting like he's been in a 20-minute match after only 3 minutes. Duggan and Race, who had the issue at that time, brawl on the floor, a sure sign of a double-countout in elimination matches. Sure enough, both are gone.

Savage kills Bass next, and Beefcake finishes him with a high knee. Beefcake gets his shots in on Honky, but since he's the low man on the face totem pole, Honky gets his token elimination by pinning him with Shake Rattle N' Roll. Honky is of course the chosen target of aggression, after hitting Elizabeth with a guitar (gee, where have I heard that before…) in an act that triggered the formation of the Mega-Powers.

Savage and Roberts take turn handing him his ass. Jake makes a dumb babyface mistake and gets double-teamed by Herc & Honky, however, just so the end result isn't a *totally* foregone conclusion. Davis comes in to mop up, and gets DDT'd and pinned. Remind me not to let Danny Davis be my partner if I ever get into wrestling. Herc & Honk keep up the pressure on Roberts, however, despite that setback. Chinlocks for everyone! Dragon gets the hot tag and goes nuts.

Historic moment: Steamboat hits a flying chop on Herc, and Savage finishes him with the big elbow, and that's the ONLY double-team from Savage & Steamboat I've ever seen and probably the only one that ever happened. Anyway, Savage gleefully plays Schillinger to Honky's Cyril O' Reilly for a few minutes as the three faces pound the champ into oblivion. The crowd is digging it. Finally Honky bails and runs back to the dressing room about 20 minutes in (not sure what the time was before clipping), which was his usual method of retaining the IC title at that point. Team Savage wins by countout. Survivors: Randy Savage, Ricky Steamboat and Jake Roberts. Decent enough opener. **1/2

More...

KM DVD/VHS Store 4
Click here to purchase DVD or VHS products direct from the official distributors.
KM Replica Masks 4
Click here to purchase pro quality replica wrestling masks of all your favorite old school masked wrestlers.
KM Store 4
The KM Store now features products featuring the GCW logo as well as some other very cool images. To see what's new and to purchase T-Shirts, ball caps, mouse pads and more, click here.
KM Message Board 4
Want to chat with other fans of regional wrestling? This message board has forums for over two dozen promotions. Click here.
KM Belt Gallery 4
This section contains an extensive title belt gallery... images of heavyweight, tag, U.S. and various regional title belts. To view it, click here.
Old School Tape Review 4
Reviews of various PPV's, commercial tapes and regional wrestling TV shows are available in this section. To read more, click here.
Website designed & maintained by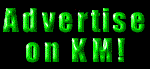 Thanks for visiting!