Regional Territories 4
This section contains monthly articles on over two dozen territories. To relive those wonderful days of old, click here.
Wrestlers 4
Enter this section for bios/profiles of various wrestlers from the regional days. To find more out about your favorite pro wrestler, click here.
Stories 4
This section contains stories from the pros themselves told exclusively to Kayfabe Memories. Want to know more as told from the wrestlers themselves? Click here.
Old School Book Reviews4
Click here to find various book reviews from old school wrestlers.
KM Links 4
For tons of links to old school related sites, click
here
.
KM Micro Wrestlers4
What are Micro Wrestlers? Click here
to find out.
KM Interviews... 4
Click here to read exclusive interviews with stars from the regional territories.
www.kayfabememories.com is © 2004 AtomDesigns. All promotional art, characters, logos and other depictions are © their respective owners. All Rights Reserved.
All contents save Wrestler Stories are © Kayfabe Memories.
Website designed and maintained by AtomDesigns © 2004 . If you experience any problems with this site or have any questions, please contact the Webmaster.
- Scott Keith

· Survivor Series 89, was probably the low point, wrestling-wise, of the year. If you don't count No Holds Barred: The Pay-Per-View. And really, who does?

· And no, I will NOT review No Holds Barred: The Pay-Per-View. So just don't even bother e-mailing me about it.

· Live from Chicago, IL

· Your hosts are Jesse Ventura and Gorilla Monsoon.

· Thankfully (or not, depending on your point of view), by 1989 the WWF had managed to get organized enough not to have every PPV run 4 and a half hours, and so no clipping was needed for this show.

· Opening match: Big Bossman, Bad News Brown, Honky Tonk Man & Rick Martel v. Brutus Beefcake, Tito Santana, Terry Taylor & Dusty Rhodes

And as you can see, the unwieldy 5 on 5 format was dumped in favor of 4 on 4, which produced 5 matches instead of 4. Good move, sez I. Martel & Santana had the main issue (I refuse to call Bossman & the American Cow's "feud" over the nightstick a legitimate issue) so they start. Pretty non-descript match to start, as they run through the basics and Taylor gets to play sacrificial lamb. Or rooster. He was just riding out the contractual gravy train at that point anyway

Santana gets the hot tag and kills Martel, but tries a rollup and it gets reversed for the pin. Geez, that makes like 140 matches between those two with that ending. Interesting note for those of you obsessive enough to e-mail me stuff like this: Shane-O-Mac, the most homicidal, genocidal, suicidal guy to wear a sweater vest, is the on-the-floor referee for every match, probably stuck there on the order of Daddy-O-Mac in order to learn the flow and pace of a wrestling match. The future Sapphire is shown in the front row of the crowd, cheering on the Dream. Taylor and Martel do a nice sequence, and AGAIN poor Terry gets killed. Geez, he's getting buried, we GET IT ALREADY.

He makes the mistake of talking smack to Bad News Brown, and takes a beating for it. Gotta admire the guy for guts. However, once again, Bad News runs afoul of a teammate (this year's lucky winner: Big Bossman) and walks out on his team. But I mean, it makes sense: What self-respecting bad-ass black guy would team with a prison guard and a guy nicknamed "Honky"? It's just BEGGING for a bad situation. Ahem. HTM & Beefcake do their usual match, with an unusual twist: Beefcake hits a high knee and Honky lays down clean. Martel & Beefer do a boring mini-match next, with Brutus getting the pin on a sunset flip. Bossman is 1-on-3 now. He dispatches Taylor without breaking much of a sweat, and speaking of breaking sweat, here comes Dusty with a bodypress for the pin and the victory at 22:00. This was decent. **1/4 Survivors: Dusty Rhodes, Brutus Beefcake. More...

KM DVD/VHS Store 4
Click here to purchase DVD or VHS products direct from the official distributors.
KM Replica Masks 4
Click here to purchase pro quality replica wrestling masks of all your favorite old school masked wrestlers.
KM Store 4
The KM Store now features products featuring the GCW logo as well as some other very cool images. To see what's new and to purchase T-Shirts, ball caps, mouse pads and more, click here.
KM Message Board 4
Want to chat with other fans of regional wrestling? This message board has forums for over two dozen promotions. Click here.
KM Belt Gallery 4
This section contains an extensive title belt gallery... images of heavyweight, tag, U.S. and various regional title belts. To view it, click here.
Old School Tape Review 4
Reviews of various PPV's, commercial tapes and regional wrestling TV shows are available in this section. To read more, click here.
Website designed & maintained by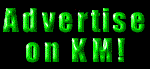 Thanks for visiting!