Regional Territories 4
This section contains monthly articles on over two dozen territories. To relive those wonderful days of old, click here.
Wrestlers 4
Enter this section for bios/profiles of various wrestlers from the regional days. To find more out about your favorite pro wrestler, click here.
Stories 4
This section contains stories from the pros themselves told exclusively to Kayfabe Memories. Want to know more as told from the wrestlers themselves? Click here.
Old School Book Reviews4
Click here to find various book reviews from old school wrestlers.
KM Links 4
For tons of links to old school related sites, click
here
.
KM Micro Wrestlers4
What are Micro Wrestlers? Click here
to find out.
KM Interviews... 4
Click here to read exclusive interviews with stars from the regional territories.
www.kayfabememories.com is © 2004 AtomDesigns. All promotional art, characters, logos and other depictions are © their respective owners. All Rights Reserved.
All contents save Wrestler Stories are © Kayfabe Memories.
Website designed and maintained by AtomDesigns © 2004 . If you experience any problems with this site or have any questions, please contact the Webmaster.
- Mike Regan
Welcome to another look back at WCW's past. This week, it's all about Jimmy Valiant. Please, come back. I promise it won't completely suck. And there's blood.
Our first match is Valiant taking on The Midnight Express (Bobby Eaton and Dennis Condrey, with Jim Cornette). This won't be a handicap match as Valiant gets help from Miss Atlanta Lively. Our host Dusty Rhodes invites us to try and guess Miss Atlanta's true identity (which I'll spoil right away by revealing that it's Ron Garvin). This match sounds awfully familiar to me. Hey! It's the "Atlanta Streetfight" from Starcade '85. This by the way is two straight weeks where they showed a match from a Starcade without admitting it. They did it last week with Wahoo McDaniel & Mark Youngblood vs. Bob Orton & Dick Slater from Starcade '83. And they'll do it again later in this show.
On a side note, the single most annoying aspect of this show is that they never give the historical background for these matches. They just throw 'em out with no real explanation. Since this is the first match shown in this series that falls fully within my personal recollection (I started watching pro wrestling heavily in the fall of 1985) I will go ahead and give the background for this match. The Midnights arrived in WCW in 1985 and their first real feud was with Valiant and his valet Big Mama (who did absolutely nothing). For some reason Valiant brought in Ron Garvin in a dress (as Miss Atlanta Lively) to help him battle the Midnights. Jim Cornette promised during the build up to Starcade that he would strip Miss Atlanta naked and prove that "she" was in fact a "he."
As for the match itself, the Midnights wore tuxes just like Cornette. Valiant and Lively throw powder in the Midnights' faces then beat them to a bloody pulp. Eaton, in particular, takes a hell of a beating, including a hip toss on the concrete from Valiant, and is soon a bloody mess. The Midnight's come back briefly and try to strip Lively but are unsuccessful. They really take over with powder and Cornette's tennis racket and bloody the other team. They isolate Miss Garvin for a double-team assault (and there a fewer sites as bizarre, IMO, as Ron Garvin, in hideous drag, wearing an oversized wig, and covered in a "crimson mask"), while keeping Valiant out of the ring. They stop a Valiant comeback. Eaton climbs up top to go for a kneedrop, but Lively meets him with the knockout punch on the way down and covers for the pin. After the match the crowd gets what it was promised: a stripping. However it's Cornette that gets stripped: to boxer shorts with hearts on them. (Side note to Scott Keith: Jim Cornette didn't need Vince McMahon to publicly humiliate, he was perfectly capable of humiliating himself.) More...

KM DVD/VHS Store 4
Click here to purchase DVD or VHS products direct from the official distributors.
KM Replica Masks 4
Click here to purchase pro quality replica wrestling masks of all your favorite old school masked wrestlers.
KM Store 4
The KM Store now features products featuring the GCW logo as well as some other very cool images. To see what's new and to purchase T-Shirts, ball caps, mouse pads and more, click here.
KM Message Board 4
Want to chat with other fans of regional wrestling? This message board has forums for over two dozen promotions. Click here.
KM Belt Gallery 4
This section contains an extensive title belt gallery... images of heavyweight, tag, U.S. and various regional title belts. To view it, click here.
Old School Tape Review 4
Reviews of various PPV's, commercial tapes and regional wrestling TV shows are available in this section. To read more, click here.
Website designed & maintained by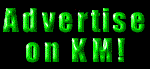 Thanks for visiting!