Regional Territories 4
This section contains monthly articles on over two dozen territories. To relive those wonderful days of old, click here.
Wrestlers 4
Enter this section for bios/profiles of various wrestlers from the regional days. To find more out about your favorite pro wrestler, click here.
Stories 4
This section contains stories from the pros themselves told exclusively to Kayfabe Memories. Want to know more as told from the wrestlers themselves? Click here.
Old School Book Reviews4
Click here to find various book reviews from old school wrestlers.
KM Links 4
For tons of links to old school related sites, click
here
.
KM Micro Wrestlers4
What are Micro Wrestlers? Click here
to find out.
KM Interviews... 4
Click here to read exclusive interviews with stars from the regional territories.
www.kayfabememories.com is © 2004 AtomDesigns. All promotional art, characters, logos and other depictions are © their respective owners. All Rights Reserved.
All contents save Wrestler Stories are © Kayfabe Memories.
Website designed and maintained by AtomDesigns © 2004 . If you experience any problems with this site or have any questions, please contact the Webmaster.
- Mike Regan

This week it's a look at three of the "young lions" according to Dusty Rhodes. This week we see three men who were primed to dominate wrestling until tragedy struck. Of couse, Dusty never elaborates on this, so I'll have to:

Nikita Koloff, whose wife died of cancer.

Magnum T. A., whose career was cut short by a car crash.

And Tommy Rich, who, um, there's gotta be something. Oh yeah, he wrestled a PPV match in Philadelphia (as we'll soon see).

Anyway, let's get rolling, with the match that hit me like a left to the solar plexus when I saw it listed on Turner South's web page:

From Halloween Havoc '89:


Tommy Rich vs. The Cuban Assassin

By the way, I doubt that Tommy Rich is reading this, but if you are, you may want to skip this match report. Just a suggestion.

Why?! Why this match?! Out of hundreds of possible matches from PPVs, why is this one the first to appear on Classics? Why is this match picked to be our first taste of Jim Ross announcing? Why is this match our first look at long-time referee Nick Patrick? And why is Tommy Rich on this salute to young lions? Rich is known for two things; being one of the worst world champions in the days before Vince Russo, and for being a big drunk. And this is his "big comeback" which failed to amount to anything other than the birth of Big Josh, and a stint in the York Foundation. On the other hand, this match is a beautiful intro to a long-time wrestling tradition: the hostile, babyface-hating, Santa Claus-booing Philadelphia crowd. Tommy Rich works on the arm of the Assassin (David "Fidel" Sierra, last seen as one half of the "Barrio Brothers"), and the crowd erupts, against Tommy. They boo Tommy unmercifully, even getting a "Tommy Rich sucks" chant going. Good ol' JR does his best to ignore the building tide of hatred towards Rich, and hype that year's Starrcade and it's top secret revolutionary format (it was the Iron Man tournament, and it bombed). Assassin cheats to take the advantage, leading JR to question his amateur credentials (I did not make that up). Rich finally gets the win with his finisher, the Thesz press, and the crowd boos. It was a blah match, but it is perversely fun to see the WCW equivalent of "Kill the Clown" (ask the Rick about it, or don't).

More...

KM DVD/VHS Store 4
Click here to purchase DVD or VHS products direct from the official distributors.
KM Replica Masks 4
Click here to purchase pro quality replica wrestling masks of all your favorite old school masked wrestlers.
KM Store 4
The KM Store now features products featuring the GCW logo as well as some other very cool images. To see what's new and to purchase T-Shirts, ball caps, mouse pads and more, click here.
KM Message Board 4
Want to chat with other fans of regional wrestling? This message board has forums for over two dozen promotions. Click here.
KM Belt Gallery 4
This section contains an extensive title belt gallery... images of heavyweight, tag, U.S. and various regional title belts. To view it, click here.
Old School Tape Review 4
Reviews of various PPV's, commercial tapes and regional wrestling TV shows are available in this section. To read more, click here.
Website designed & maintained by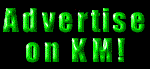 Thanks for visiting!