Regional Territories 4
This section contains monthly articles on over two dozen territories. To relive those wonderful days of old, click here.
Wrestlers 4
Enter this section for bios/profiles of various wrestlers from the regional days. To find more out about your favorite pro wrestler, click here.
Stories 4
This section contains stories from the pros themselves told exclusively to Kayfabe Memories. Want to know more as told from the wrestlers themselves? Click here.
Old School Book Reviews4
Click here to find various book reviews from old school wrestlers.
KM Links 4
For tons of links to old school related sites, click
here
.
KM Micro Wrestlers4
What are Micro Wrestlers? Click here
to find out.
KM Interviews... 4
Click here to read exclusive interviews with stars from the regional territories.
www.kayfabememories.com is © 2004 AtomDesigns. All promotional art, characters, logos and other depictions are © their respective owners. All Rights Reserved.
All contents save Wrestler Stories are © Kayfabe Memories.
Website designed and maintained by AtomDesigns © 2004 . If you experience any problems with this site or have any questions, please contact the Webmaster.
- Scott Keith
- Dumbest idea ever: This is live from three different locations.
First Stage:
- Live from Uniondale, New York.
- Your hosts are Vince McMahon and Susan Saint James. For those of you who have tuned out the 80s completely, Susan gained fame on a sitcom called "Kate & Allie", although her initial celebrity push came from a show called "MacMillan and Son". She has no connection to wrestling that I know of.
- Opening match: Magnificent Muraco v. Paul Orndorff. Orndorff hasn't turned on the Orange Goblin yet at this point, but he's getting close. Orndorff holds a wristlock for a couple of minutes, but Muraco dumps him over the top to escape and they fight to a double countout. And that's our first DUD of the night...
- Intercontinental title: Randy Savage v. George Steele. Susan recaps the feud in two sentences. "He has this beautiful manager, he treats her like dirt. Animal is in love with her." There ya go. Savage still doesn't have the Memphis heel flushed out of his system yet, so he runs around the ring to escape Steele right away. And runs. And runs. Finally Steele catches him, but Savage runs away again. He brings back a bouquet of flowers and they beat each other up with that. No, really. Savage even sells it. Steele bites open the turnbuckle and rubs stuffing in Savage's face, and Savage sells that too. More running, but Steele gets distracted talking to Liz (and I mean, really, who wouldn't?) and Savage gets the double axehandle and big elbow, but Steele kicks out at two. Savage lures him into the corner and does the Ric Flair pin on him to retain the title. We'll be generous and go -*
- George Welles v. Jake Roberts. Welles is some football player turned wrestler, and not a very good one at that. This is during the Snake's initial heel push in the WWF. Welles is like a bulkier Virgil (or Vince, as the case may be). Welles decimates Roberts with some basic stuff (slams, forearms, a flying headscissors and powerslam) before a ringside chase leads to a Roberts kneelift as Welles comes back in. DDT and it's over. Roberts got no offense before the finish. Welles gets the Damian treatment, of course. *
More...

KM DVD/VHS Store 4
Click here to purchase DVD or VHS products direct from the official distributors.
KM Replica Masks 4
Click here to purchase pro quality replica wrestling masks of all your favorite old school masked wrestlers.
KM Store 4
The KM Store now features products featuring the GCW logo as well as some other very cool images. To see what's new and to purchase T-Shirts, ball caps, mouse pads and more, click here.
KM Message Board 4
Want to chat with other fans of regional wrestling? This message board has forums for over two dozen promotions. Click here.
KM Belt Gallery 4
This section contains an extensive title belt gallery... images of heavyweight, tag, U.S. and various regional title belts. To view it, click here.
Old School Tape Review 4
Reviews of various PPV's, commercial tapes and regional wrestling TV shows are available in this section. To read more, click here.
Website designed & maintained by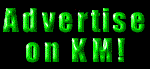 Thanks for visiting!