Regional Territories 4
This section contains monthly articles on over two dozen territories. To relive those wonderful days of old, click here.
Wrestlers 4
Enter this section for bios/profiles of various wrestlers from the regional days. To find more out about your favorite pro wrestler, click here.
Stories 4
This section contains stories from the pros themselves told exclusively to Kayfabe Memories. Want to know more as told from the wrestlers themselves? Click here.
Old School Book Reviews4
Click here to find various book reviews from old school wrestlers.
KM Links 4
For tons of links to old school related sites, click
here
.
KM Micro Wrestlers4
What are Micro Wrestlers? Click here
to find out.
KM Interviews... 4
Click here to read exclusive interviews with stars from the regional territories.
www.kayfabememories.com is © 2004 AtomDesigns. All promotional art, characters, logos and other depictions are © their respective owners. All Rights Reserved.
All contents save Wrestler Stories are © Kayfabe Memories.
Website designed and maintained by AtomDesigns © 2004 . If you experience any problems with this site or have any questions, please contact the Webmaster.
- Scott Keith
· Live from Trump Plaza in Atlantic City, New Jersey. Original airdate: March 27/88
· Your hosts are Jesse Ventura and Gorilla Monsoon.
· This is an interesting show for a couple of reasons. First of all, it's the first World title tournament on PPV. Second, it demonstrates how Vince's excesses come back to bite him in the ass, as this show is about as bloated and excessive as you get. And where to hold such a show than Atlantic City under the auspices of Donald Trump?
· Opening match: Battle Royale. Case in point, whose dumb idea was it to open a show with a battle royale? Sam Houston gets the honor of being the first one out. Sika follows quickly after. This is basically a JTTS-fest. George Steele, who has been sitting outside since the start, pulls Jim Neidhart out.
Ray Rougeau and the Killer Bees go in one big heap. JYD dumps Ron Bass with little trouble. The referees try to convince the Animal to actually enter the ring, but he's not going anywhere. Everyone gangs up on Hillbilly Jim and dumps him. Jim Powers gets dumped. We're getting down to the cream of the jobber crop.
Nothing interesting going on outside of the eliminations. Ken Patera dumps both Zukhov and Volkoff, then gets dumped by Bad News Brown. Brown sends Harley Race and Jacque Rougueau flying, then Paul Roma. That leaves Brown and Bret Hart against JYD.
The Dog takes both of them on, but the heels overwhelm him and beat on him for a while, then toss him. Bret foolishly thinks they'll split the trophy, but Brown ends that line of thought by turning on Hart out of nowhere and tossing him to win the battle royale.
This would mark two major turning points: 1) Bret's face turn and 2) The first time Bret is double crossed on a major PPV. har har. Bret (and isn't this a shock) destroys the trophy. I don't rate battle royales, but this one sucked.
More...

KM DVD/VHS Store 4
Click here to purchase DVD or VHS products direct from the official distributors.
KM Replica Masks 4
Click here to purchase pro quality replica wrestling masks of all your favorite old school masked wrestlers.
KM Store 4
The KM Store now features products featuring the GCW logo as well as some other very cool images. To see what's new and to purchase T-Shirts, ball caps, mouse pads and more, click here.
KM Message Board 4
Want to chat with other fans of regional wrestling? This message board has forums for over two dozen promotions. Click here.
KM Belt Gallery 4
This section contains an extensive title belt gallery... images of heavyweight, tag, U.S. and various regional title belts. To view it, click here.
Old School Tape Review 4
Reviews of various PPV's, commercial tapes and regional wrestling TV shows are available in this section. To read more, click here.
Website designed & maintained by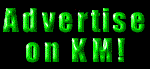 Thanks for visiting!