Regional Territories 4
This section contains monthly articles on over two dozen territories. To relive those wonderful days of old, click here.
Wrestlers 4
Enter this section for bios/profiles of various wrestlers from the regional days. To find more out about your favorite pro wrestler, click here.
Stories 4
This section contains stories from the pros themselves told exclusively to Kayfabe Memories. Want to know more as told from the wrestlers themselves? Click here.
Old School Book Reviews4
Click here to find various book reviews from old school wrestlers.
KM Links 4
For tons of links to old school related sites, click
here
.
KM Micro Wrestlers4
What are Micro Wrestlers? Click here
to find out.
KM Interviews... 4
Click here to read exclusive interviews with stars from the regional territories.
www.kayfabememories.com is © 2004 AtomDesigns. All promotional art, characters, logos and other depictions are © their respective owners. All Rights Reserved.
All contents save Wrestler Stories are © Kayfabe Memories.
Website designed and maintained by AtomDesigns © 2004 . If you experience any problems with this site or have any questions, please contact the Webmaster.
- Mike DuPree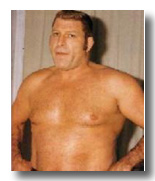 One of the true unsung legends of pro wrestling from the "modern" era has to be Wilbur Snyder. In the 50's thru to the mid 60's,Wilbur was one of professional wrestling's biggest draw cards, and helped pioneer the wrestling style of ringwork by doing elaborate high spots (for the time), ropework, and unorthodox bumps over the top rope and bumps taken on the floor. While he wasn't by any means the first to do any of these moves, he did raise the use of them to a fine art. If you delighted to any of the Randy Savage/Ricky Steamboat matches from the late 80's,then you basically saw a sped up version of Snyder's ring work (usually with Savage's dad, Angelo Poffo). Snyder was one of the few guys EVER to go over cleanly against Verne Gagne, taking the US TV title from him in the 50's,and was highly respected by his peers in the grappling game. If Lou Thesz was the link from the old carnival shooter/hooker to the modern day "worker", and Gagne the representative of the grappling art from the olympic mats to the pros, then Snyder was the prototype babyface wrestling performer; a tall,muscular, highflying matinee idol, who clicked at the turnstiles with fans all over the world, looking the part and convincing his audience he was the real mccoy, even though his legit wrestling background was very limited. Snyder was dubbed the California Comet early in his career, and later, "The World's Most Scientific Wrestler".
Wilbur E. Snyder was born September 15,1929 in Santa Monica, California. He graduated from Van Nuys High School, where he won four letters in football, as well as being a gymnast. From there he headed to the University of Utah in 1948-49 to play football, pausing only long enough to get married. Right out of high school, Wilbur married his high school sweetheart Shirlee because he had a rival for his affections, Bob Waterfield, who went on to be the quarterback that lead the Los Angeles Rams to the national championship in 1952,a team that, incidently, Snyder had played on. Waterfield was instrumental in getting Wilbur his tryout with the Rams, incidently.
In college Snyder joined the wrestling team to keep in shape for football. Teammates included future wrestling stars Joe Tangero and Guy Brunetti. Snyder didn't wrestle professionally until he left college, and was drawn into the mat game by Jerry Christy, nephew of Ted and Vic Christy. Snyder was trained for the pro ranks by Warren Bockwinkle and Sandor Szazbo, and made his debut at Hollywood's Legion Stadium, and later worked the Valley Gardens in North Hollywood. More...

KM DVD/VHS Store 4
Click here to purchase DVD or VHS products direct from the official distributors.
KM Replica Masks 4
Click here to purchase pro quality replica wrestling masks of all your favorite old school masked wrestlers.
KM Store 4
The KM Store now features products featuring the GCW logo as well as some other very cool images. To see what's new and to purchase T-Shirts, ball caps, mouse pads and more, click here.
KM Message Board 4
Want to chat with other fans of regional wrestling? This message board has forums for over two dozen promotions. Click here.
KM Belt Gallery 4
This section contains an extensive title belt gallery... images of heavyweight, tag, U.S. and various regional title belts. To view it, click here.
Old School Tape Review 4
Reviews of various PPV's, commercial tapes and regional wrestling TV shows are available in this section. To read more, click here.
Website designed & maintained by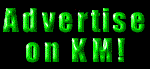 Thanks for visiting!