Regional Territories 4
This section contains monthly articles on over two dozen territories. To relive those wonderful days of old, click here.
Wrestlers 4
Enter this section for bios/profiles of various wrestlers from the regional days. To find more out about your favorite pro wrestler, click here.
Stories 4
This section contains stories from the pros themselves told exclusively to Kayfabe Memories. Want to know more as told from the wrestlers themselves? Click here.
Old School Book Reviews4
Click here to find various book reviews from old school wrestlers.
KM Links 4
For tons of links to old school related sites, click
here
.
KM Micro Wrestlers4
What are Micro Wrestlers? Click here
to find out.
KM Interviews... 4
Click here to read exclusive interviews with stars from the regional territories.
www.kayfabememories.com is © 2004 AtomDesigns. All promotional art, characters, logos and other depictions are © their respective owners. All Rights Reserved.
All contents save Wrestler Stories are © Kayfabe Memories.
Website designed and maintained by AtomDesigns © 2004 . If you experience any problems with this site or have any questions, please contact the Webmaster.
- Greg Oliver
There has been an influx of books about the wrestling world in the last few years, mostly autobiographical incursions into the literary world by the stars of today and a few from yesteryear.
Greg Oliver's "The Pro Wrestling Hall Of Fame – The Canadians" could be called a historical reference type of book that is not only fun to read but enlightening as well.
The book takes the route of bios of each of the major Canadian stars and is supplemented by some rare photos from the collections of Terry Dart, Tony Lanza and the Li'l Al collection, among others.
How many of you knew that Abdullah The Butcher used to play in his backyard in Windsor, or that evil Russian Ivan Koloff called Ontario home? Even the seasoned fan may be surprised to find that Canada produced a lot of great stars over the years.
The first section is a Top 20 list topped by the pride of East York, "Whipper" Billy Watson and includes Gene Kiniski, Mad Dog Vachon, Stu Hart, and the Tolos Brothers as part of this exclusive list.
With the help of the wrestlers (or their families) Oliver presents updated bios including "where are they now?" for all the great wrestlers that called Canada home.
For those of you that are unfamiliar with Canadian wrestling history, you will get a rare glimpse into the workings of Canada's wrestling promotions and training centers.
All your favorites are here but the most fun is reading about the stars of the early years. You will learn about Victor Delamarre, Sammy Berg, Harry Madison and The Kasaboski family. Names like Kenny Ackles, Emile Dupre, Bob "Legs" Langevin and Jack Laskin establish their place in history. Some of the other stars that you may not have known were Canadian include Klondike Bill, George and Sandy Scott, Stan Stasiak, and Hans Schmidt.
Television Wrestling wouldn't be the same without the Announcers, who get their own section entitled aptly enough – The Announcers – An essential element, and includes longtime Calgary mainstay Ed Whalen as well as Ron Morrier, Milt Avruskin, and Michel Normandin.
One of the great features in the book is a section devoted to the great Canadian Families. Here you will find extended looks at the most famous Canadian wrestling relatives. From the Vachons to the Brito's, the Harts, the Baillargeons, and the Cormiers of New Brunswick, Oliver provides insight to the dynasties of our country.
Hamilton, Ontario is spotlighted as a major training ground for providing a lot of the stars of the 50's and 60's. It was the home of Jack Wentworth's gym The Factory, which is well known for producing stars Billy Red Lyons, Johnny Powers, The Sharpes and many more.
The Managers section checks in with the legendary Eddie Creatchman, manager for The Sheik, Abdullah and many others, as well as Calgary based J.R. Foley and longtime wrestler turned manager Tarzan Tyler.
In the section on "adopted Canadians", you will find stars that were born elsewhere but made their homes and careers in Canada. Fred Atkins, Edouard Carpentier, Don Leo Jonathon, and Lord Athol Layton are among the adopted sons, as well as CFL legend Angelo Mosca who was actually born in Massachusetts but has made Canada his home since his gridiron days..
Throughout the book there are several Stories including a look at Camp Maupus, the famous Quebec Training ground run by Emile Maupus, the CFL influence (with a great picture of Mosca with a young Wayne Coleman -Superstar Billy Graham), and an interesting look at the Canadian wrestler's home away from home – Australia.
The section on today's stars looks at the great old-school type wrestlers including Steve Corino, Chris Benoit, Phil Lafon and Rick Patterson. For the younger fans, Patterson who was a regular on Tomkos' All Star Wrestling would be better known as cult hero Leatherface. More...

KM DVD/VHS Store 4
Click here to purchase DVD or VHS products direct from the official distributors.
KM Replica Masks 4
Click here to purchase pro quality replica wrestling masks of all your favorite old school masked wrestlers.
KM Store 4
The KM Store now features products featuring the GCW logo as well as some other very cool images. To see what's new and to purchase T-Shirts, ball caps, mouse pads and more, click here.
KM Message Board 4
Want to chat with other fans of regional wrestling? This message board has forums for over two dozen promotions. Click here.
KM Belt Gallery 4
This section contains an extensive title belt gallery... images of heavyweight, tag, U.S. and various regional title belts. To view it, click here.
Old School Tape Review 4
Reviews of various PPV's, commercial tapes and regional wrestling TV shows are available in this section. To read more, click here.
Website designed & maintained by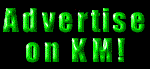 Thanks for visiting!