Regional Territories 4
This section contains monthly articles on over two dozen territories. To relive those wonderful days of old, click here.
Wrestlers 4
Enter this section for bios/profiles of various wrestlers from the regional days. To find more out about your favorite pro wrestler, click here.
Stories 4
This section contains stories from the pros themselves told exclusively to Kayfabe Memories. Want to know more as told from the wrestlers themselves? Click here.
Old School Book Reviews4
Click here to find various book reviews from old school wrestlers.
KM Links 4
For tons of links to old school related sites, click
here
.
KM Micro Wrestlers4
What are Micro Wrestlers? Click here
to find out.
KM Interviews... 4
Click here to read exclusive interviews with stars from the regional territories.
www.kayfabememories.com is © 2004 AtomDesigns. All promotional art, characters, logos and other depictions are © their respective owners. All Rights Reserved.
All contents save Wrestler Stories are © Kayfabe Memories.
Website designed and maintained by AtomDesigns © 2004 . If you experience any problems with this site or have any questions, please contact the Webmaster.
- Vince Fahey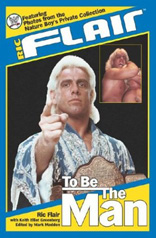 Out of all the books that could've been written about the professional wrestling business...all the various biographical subjects, the one I was most interested in, or at least, the one I anticipated the most, was the one on and by Ric Flair.
While I certainly can't be called the world's biggest Ric Flair fan, I am a fan of his, regardless. How can any pro wrestling fan not be? In and out of the ring, Flair has an air of class, professionalism, respect and appreciation that many other pros don't have. And throughout his new book, To Be the Man, all that is clearly evident.
I'm pretty certain I've read all the wrestling biographies that are available, at least within the last 5-7 years, and easily, at least in my opinion, this book is in the top three. Part of that certainly comes from my interest and appreciation of Flair, but moreso, I think this book, while not necessarily giving me an inside glimpse of the business like we got with Ole Anderson's book, here we get a glimpse of Ric Flair the wrestler, and even more important, Ric Flair the man. And it is this glimpse of the man, that makes this book so enjoyable.
When I really first started paying attention to wrestling, back in 1986, to me, there was a huge dichotomy between the WWF and Jim Crockett Promotions.... One was full of circus-like characters, the other normal wrestling personas. Everything about the two promotions was different... and spearheading JCP was Ric Flair. He alone represented the biggest difference to WWF's Hulk Hogan... and even now, looking back, I can remember how I felt when Flair would come out for an interview or get into the ring to wrestle. He was entertaining on levels that Hogan couldn't match. Back then, Flair simply was the man.
The book starts with Ric's earliest life, pre-pro wrestling, giving us insight into his upbringing. It progresses through his career from early days in the AWA to Mid-Atlantic Championship Wrestling, his days working for JCP, into his first WWF run, back to WCW and then brings us to present. One of the best things about this book, is that Flair manages to touch on almost everything that's been of interest in his career. From the plane crash in 1975, to his feud in MACW with Rick Steamboat... the Horsemen, the Von Erichs, Harley Race, his problems with Eric Bischoff, his relationship with Vince McMahon... Flair isn't afraid to lay his life out for us to read... and this to me, is one of the best reasons to read this book... Ric allows us into his life in a way that no other pro wrestler has in a book before.
If you haven't already purchased this book by now, then you owe it to yourself as a wrestling fan to do so.... it is full of history, full of style, and an extremely enjoyable read, and you're cheating yourself if you ignore it. Highly recommended.
Order the hardback version of
To Be the Man
from



KM DVD/VHS Store 4
Click here to purchase DVD or VHS products direct from the official distributors.
KM Replica Masks 4
Click here to purchase pro quality replica wrestling masks of all your favorite old school masked wrestlers.
KM Store 4
The KM Store now features products featuring the GCW logo as well as some other very cool images. To see what's new and to purchase T-Shirts, ball caps, mouse pads and more, click here.
KM Message Board 4
Want to chat with other fans of regional wrestling? This message board has forums for over two dozen promotions. Click here.
KM Belt Gallery 4
This section contains an extensive title belt gallery... images of heavyweight, tag, U.S. and various regional title belts. To view it, click here.
Old School Tape Review 4
Reviews of various PPV's, commercial tapes and regional wrestling TV shows are available in this section. To read more, click here.
Website designed & maintained by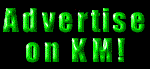 Thanks for visiting!