Regional Territories 4
This section contains monthly articles on over two dozen territories. To relive those wonderful days of old, click here.
Wrestlers 4
Enter this section for bios/profiles of various wrestlers from the regional days. To find more out about your favorite pro wrestler, click here.
Stories 4
This section contains stories from the pros themselves told exclusively to Kayfabe Memories. Want to know more as told from the wrestlers themselves? Click here.
Old School Book Reviews4
Click here to find various book reviews from old school wrestlers.
KM Links 4
For tons of links to old school related sites, click
here
.
KM Micro Wrestlers4
What are Micro Wrestlers? Click here
to find out.
KM Interviews... 4
Click here to read exclusive interviews with stars from the regional territories.
www.kayfabememories.com is © 2004 AtomDesigns. All promotional art, characters, logos and other depictions are © their respective owners. All Rights Reserved.
All contents save Wrestler Stories are © Kayfabe Memories.
Website designed and maintained by AtomDesigns © 2004 . If you experience any problems with this site or have any questions, please contact the Webmaster.
-

Larry Stoy

LS: where were you born?

NR: I was born in Lubbock, Texas on February 13, 1962. My Dad had just started promoting in Lubbock and was on the road wrestling either in San Angelo or Odessa. When he got the news my Mom was in labor he rushed back to town.

LS: What was your childhood like?

NR: I had the perfect childhood. My Dad was on TV every Saturday promoting the next week's matches at The Fair Park Coliseum. With his schedule we (my brother and I) had lots of time to go fishing and hunting with him. I spent endless hours throwing claybirds and spending time with my folks. My Mom would sell tickets to the matches and during the summer we would do spot shows. My Dad promoted shows in Plainview, LaMesa, Brownfield , Snyder etc... The wrestlers would come into town for a few days and work the circuit. The Hart boys were friends with Terry Funk so they would come down for a few weeks during the summer so I made friends with Keith and Bruce.

I would play racquetball with Kerry and Kevin Von Erich.

LS: When and how did you decide to get into the pro wrestling business?

NR: I always wanted to be in the business. I remember writing papers for school about the business and how angles were presented and how they worked to get the crowd coming back week after week. With both of my parents being in the business it was only natural I would want to follow in their footsteps. I always loved the business and always will.. How could I not, when I was a baby, my crib was in the back room of Fair Park where the boys would gather and talk over that night's finishes.

LS: Did you aspire to eventually be a woman wrestler, or just work outside of the ring?

NR: Yes, I wanted to actually wrestle but was always so tall and larger than the other girls that it would not have been very feasible and I didn't want to look really stupid by putting over some little girl.

LS: Who was the first wrestler you managed?

NR: The first wrestler I managed was Gino Hernandez. The first show was at The Joe-Harry Coliseum in San Antonio. I had a big crush on Gino for years so it was truly a dream come true. Too bad he had a really young girl friend , who's family had a lot of money. I remember the first time they gave me a finish I thought in my head "that is how they do it". I had told the Dallas office that I was smart when I asked for the position to be with Gino, but I had no idea how detailed the finishes could be.

LS: How did you end up working for Jim Crockett Promotions?

NR: I loved it. I was lucky enough to be in the right place at the right time. I had only 2 shots left with the Dallas office and had gone to Florida for shows in Tampa and Miami. I had been told that my friend Michael Hayes was booking in Florida.

Unfortunately they were getting slow and closing down for the winter. But it was my good fortune that Dusty and Tully were there. Michael said to go ask Dusty since the Carolinas were getting hot and that he would treat me right. I asked Dusty if he could use me, and each night I worked Dusty and Tully both stood out and watched. Three weeks later I was in Charlotte being Tully's Perfect 10.

LS: What was the first meeting between you and Tully Blanchard like?

NR: Tully and I had met back in Lubbock when I was 13 or 14. He was going to school at West Texas State and staying at Terry Funk's house. He would come to Lubbock and do shows often when his Dad was helping my Dad. And I remember one time he had on a beautiful leather jacket that had blood stains on it. I told him of some leather cleaner that would help remove the stains or that he should restain the whole jacket. He liked the battle wounds better. When we met up again in Charlotte, he was the perfect gentleman. Tully always looked out for my best interest. I lived with him for a few months before I got tired of all the girls in and out of his apartment on Fairview. More...

KM DVD/VHS Store 4
Click here to purchase DVD or VHS products direct from the official distributors.
KM Replica Masks 4
Click here to purchase pro quality replica wrestling masks of all your favorite old school masked wrestlers.
KM Store 4
The KM Store now features products featuring the GCW logo as well as some other very cool images. To see what's new and to purchase T-Shirts, ball caps, mouse pads and more, click here.
KM Message Board 4
Want to chat with other fans of regional wrestling? This message board has forums for over two dozen promotions. Click here.
KM Belt Gallery 4
This section contains an extensive title belt gallery... images of heavyweight, tag, U.S. and various regional title belts. To view it, click here.
Old School Tape Review 4
Reviews of various PPV's, commercial tapes and regional wrestling TV shows are available in this section. To read more, click here.
Website designed & maintained by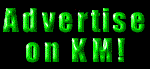 Thanks for visiting!