Regional Territories 4
This section contains monthly articles on over two dozen territories. To relive those wonderful days of old, click here.
Wrestlers 4
Enter this section for bios/profiles of various wrestlers from the regional days. To find more out about your favorite pro wrestler, click here.
Stories 4
This section contains stories from the pros themselves told exclusively to Kayfabe Memories. Want to know more as told from the wrestlers themselves? Click here.
Old School Book Reviews4
Click here to find various book reviews from old school wrestlers.
KM Links 4
For tons of links to old school related sites, click
here
.
KM Micro Wrestlers4
What are Micro Wrestlers? Click here
to find out.
KM Interviews... 4
Click here to read exclusive interviews with stars from the regional territories.
www.kayfabememories.com is © 2004 AtomDesigns. All promotional art, characters, logos and other depictions are © their respective owners. All Rights Reserved.
All contents save Wrestler Stories are © Kayfabe Memories.
Website designed and maintained by AtomDesigns © 2004 . If you experience any problems with this site or have any questions, please contact the Webmaster.
- Tony D.

I decided last month to write an article about "King Kong" Bruiser Brody and some of his matches in the Central States area. There are so many things I could write about Brody, like the time he won a steel cage match afterwards, "Hacksaw" Butch Reed and Slick got in the cage and Brody brawled with Reed. Reed had blonde hair at this time and it wasn't long before both Reed and Slick were in the WWF and "The Hacksaw" became "The Natural". I decided to write about three of Brody's matches, one against Kamala The Ugandan Giant and two in which Brody wrestled "Nature Boy" Ric Flair. Bruiser Brody might've been a heel (bad guy) in The AWA and Puerto Rico and other places in 1984, but he was a face (good guy) in the World Class and Central States areas. Bruiser Brody was known as "King Kong" Bruiser Brody in the Central States area.

On the episode of All-Star Wrestling that was broadcast on April 22, 1984, they replayed a match (more like a brawl) between "King Kong" Bruiser Brody and Kamala The Ugandan Giant that was shown on the show the week before. Kevin Wall said "Kevin Wall back with you on All Star Wrestling. Y'know, last week on All Star Wrestling we showed you that great, classic battle between "King Kong" Bruiser Brody and Kamala The Ugandan Giant. Well, to be quite honest, we had a lot of phone calls, a lot of letters during the last week saying "Hey, one more time let us see that, I don't know if you can call it a wrestling match, but whatever it was, we want to see it again." So, without further adieux, let's roll the videotape, take another look at "King Kong" Bruiser Brody, Kamala The Ugandan Giant, two of the biggest men in Professional Wrestling."

We go to the videotape and Kamala's Jungle sounding Ring Entrance Music is playing and he makes his way to the ring. Kamala was "accompanied by his boy Friday" according to Ring Announcer Terry Garvin. (When Kamala went to the WWF, Friday was renamed "Kim-Chee" and I think Kim Chee was Steve Lombardi when Kamala was in The WWF, I don't know who was Friday, both Kim-Chee and Friday wore the same outfit). Rick Stewart joined Kevin Wall with commentary for this match. Rick Stewart would eventually replace Kevin Wall as commentator, but that was a couple of years away. Bruiser Brody is standing in the ring waiting "like a caged lion" according to Kevin Wall as Brody is waiting on Kamala to enter. Rick Stewart says "Let's stay with this match, by the way, as long as we can in the closing moments of TV wrestling. We'll try to bring you all the action here Kamala against Brody live on All Star Wrestling " Kamala entered the ring and they started punching each other. More...

If you'd like to discuss the Central States region with other fans, please visit the KM Message Board

KM DVD/VHS Store 4
Click here to purchase DVD or VHS products direct from the official distributors.
KM Replica Masks 4
Click here to purchase pro quality replica wrestling masks of all your favorite old school masked wrestlers.
KM Store 4
The KM Store now features products featuring the GCW logo as well as some other very cool images. To see what's new and to purchase T-Shirts, ball caps, mouse pads and more, click here.
KM Message Board 4
Want to chat with other fans of regional wrestling? This message board has forums for over two dozen promotions. Click here.
KM Belt Gallery 4
This section contains an extensive title belt gallery... images of heavyweight, tag, U.S. and various regional title belts. To view it, click here.
Old School Tape Review 4
Reviews of various PPV's, commercial tapes and regional wrestling TV shows are available in this section. To read more, click here.
Website designed & maintained by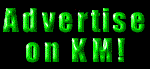 Thanks for visiting!