Regional Territories 4
This section contains monthly articles on over two dozen territories. To relive those wonderful days of old, click here.
Wrestlers 4
Enter this section for bios/profiles of various wrestlers from the regional days. To find more out about your favorite pro wrestler, click here.
Stories 4
This section contains stories from the pros themselves told exclusively to Kayfabe Memories. Want to know more as told from the wrestlers themselves? Click here.
Old School Book Reviews4
Click here to find various book reviews from old school wrestlers.
KM Links 4
For tons of links to old school related sites, click
here
.
KM Micro Wrestlers4
What are Micro Wrestlers? Click here
to find out.
KM Interviews... 4
Click here to read exclusive interviews with stars from the regional territories.
www.kayfabememories.com is © 2004 AtomDesigns. All promotional art, characters, logos and other depictions are © their respective owners. All Rights Reserved.
All contents save Wrestler Stories are © Kayfabe Memories.
Website designed and maintained by AtomDesigns © 2004 . If you experience any problems with this site or have any questions, please contact the Webmaster.
- Tony D.

Ron Ritchie started wrestling in 1978, and in 1983 he and George Wells (Master G) beat The Sheiks (Roger Kirby and Sheik Abdullah The Great) for The Central States tag team titles in August of 1983. The Sheiks won the titles back later in the month.
Ron Ritchie wrestled Tommy Sharp on April 12, 1984 (the match was shown on TV on April 22) and Kevin Wall said that Ron Ritchie was "right out of a mold of a Harley Race." Ron Ritchie defeated Tommy Sharp with a splash in a short bout.

On the episode of All-Star Wrestling that was shown on May 13th (the match took place on May 3rd), the team of Ron Ritchie and Harley Race took on The Central States tag team Champions, "America's most controversial tag team" The Grapplers. The televised match was joined in progress at the 10 minute mark with Grappler #2 against Ron Ritchie. Kevin Wall said that you have "four of the toughest men in Professional Wrestling" in this match. Grappler #2 with an atomic kneedrop on Ron Ritchie near the corner of the ring that sends Ron Ritchie headfirst into the ring turnbuckle. Grappler #2 with a shoulderbreaker for a two count that is broken up by Harley Race. Grappler #2 puts Ron Ritchie in a bearhug.

A few weeks after this match, they changed the opening footage for All-Star Wrestling, and they included a few scenes from this match in the show opening, including shots of Grappler #2 having Ritchie in the bearhug. Harley Race got the tag but Referee Bobby Whitlock didn't see it and he ordered Harley Race back to his corner. Grappler #2 tags Grappler #1 and Grappler #1 with some punches in the corner on Ron Ritchie. Grappler with a snap mare and he missed an elbowdrop. Ritchie tried in vain to tag in Harley Race. Grappler #1 tags Grappler #2 as he gives Ron Ritchie an Irish Whip. As Ron Ritchie comes off of the ropes, Grappler #2 catches Ron Ritchie with a bearhug. Ron Ritchie broke free with a few punches.

They both go down and Grappler #2 with a legscissors as Grappler #2 makes the tag. Grappler #1 with forearms and a bodyslam on Ron Ritchie. Grappler #1 tried to get Ron Ritchie in a Boston Crab by Harley Race got into the ring and stopped the Boston Crab attempt with a kneelift. The Grapplers illegally switch while Bobby Whitlock has his attention on Harley Race. Grappler #2 with a Boston Crab of his own and Harley Race gets in the ring again and hits Grappler #2 with a kneelift. The Referee figures out that the wrong Grappler is in the ring and Grappler #2 holds Ritchie down so Grappler #1 can give Ritchie a kick to the head. More...

If you'd like to discuss the Central States region with other fans, please visit the KM Message Board

KM DVD/VHS Store 4
Click here to purchase DVD or VHS products direct from the official distributors.
KM Replica Masks 4
Click here to purchase pro quality replica wrestling masks of all your favorite old school masked wrestlers.
KM Store 4
The KM Store now features products featuring the GCW logo as well as some other very cool images. To see what's new and to purchase T-Shirts, ball caps, mouse pads and more, click here.
KM Message Board 4
Want to chat with other fans of regional wrestling? This message board has forums for over two dozen promotions. Click here.
KM Belt Gallery 4
This section contains an extensive title belt gallery... images of heavyweight, tag, U.S. and various regional title belts. To view it, click here.
Old School Tape Review 4
Reviews of various PPV's, commercial tapes and regional wrestling TV shows are available in this section. To read more, click here.
Website designed & maintained by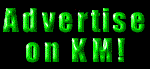 Thanks for visiting!