Regional Territories 4
This section contains monthly articles on over two dozen territories. To relive those wonderful days of old, click here.
Wrestlers 4
Enter this section for bios/profiles of various wrestlers from the regional days. To find more out about your favorite pro wrestler, click here.
Stories 4
This section contains stories from the pros themselves told exclusively to Kayfabe Memories. Want to know more as told from the wrestlers themselves? Click here.
Old School Book Reviews4
Click here to find various book reviews from old school wrestlers.
KM Links 4
For tons of links to old school related sites, click
here
.
KM Micro Wrestlers4
What are Micro Wrestlers? Click here
to find out.
KM Interviews... 4
Click here to read exclusive interviews with stars from the regional territories.
www.kayfabememories.com is © 2004 AtomDesigns. All promotional art, characters, logos and other depictions are © their respective owners. All Rights Reserved.
All contents save Wrestler Stories are © Kayfabe Memories.
Website designed and maintained by AtomDesigns © 2004 . If you experience any problems with this site or have any questions, please contact the Webmaster.
- Tony D.
"Nobody Calls Me Yellow!" This is the saying on the front of the t-shirt worn by Colonel Buck Robley. Robley was a mainstay in the Central States area in the early 1980ís. He was a manager and a wrestler. Jesse "The Body" Ventura was a part of "Robleyís Army."
But in 1983, Robley was a fan favorite. This event is one fall with a 45 minute time limit. Introducing From Amarillo, Texas weighing 237 pounds, Colonel Buck Robley. His partner from Santa Fe, New Mexico, weighing 298 from Santa Fe. Bruiser Brody. Their opponents with a combined weight of 460 pounds, The Grapplers.
Many wrestling magazines, periodicals are on hand for the action. This is the first match involving Colonel Buck Robley and Bruiser Brody as a tag team. This match is also the first appearance of The Grapplers in the Central States area. Brody does not like to tag team normally. When he found out that Colonel Buck Robley was available, he said "Letís go." Kevin Wall and Rick Stewart does the commentary for this match from 1983. With the exception of the right boot of Grappler #1, The Grapplers are identical. The Grapplers have done a lot of damage to a lot of wrestlers all over the country. Colonel Buck Robley has been known to use his steel arm brace as a weapon too.
As Grappler #1 goes for a big foot, Colonel Buck Robley catches the foot of the Grappler and spins him around. The Colonel grabs the Grappler and catches him with an Atomic Knee Drop. Colonel Buck Robley makes the tag to Bruiser Brody and King Kong Bruiser Brody kicks both Grapplers in the shoulder, and he goes for an armbar on Grappler #1. Bruiser Brody is listed in the program as being 298 pounds, but Kevin Wall has to think that Brody must weigh about 315 pounds and itís all muscle, folks, thereís not an ounce of fat on him. Brody tagged Robley and Robley with a punch and right back to the armbar. Buck Robley gets rammed into the ring turnbuckle by Grappler #1 and The Grappler with punches and a hard elbow and a 2 count. Robley powered out and Grappler #1 put him in a front face lock. Grappler #1 made the tag and Grappler #2 bodyslammed the Colonel and with Buck Robley laying on the canvas, Grappler #2 went for a standing fist drop and he missed! Grappler #2 with a bearhug on Buck Robley and he makes the tag to Grappler #1. Grappler #1 goes immediately to the bearhug and The Grapplers do a few quick tags and double team moves to work over Robley. A high backdrop and a two count on Robley. Bruiser Brody gets tagged in and The Grapplers double team Brody and they give him a double elbow as Referee Sonny Myers keeps Buck Robley from interfering. The Grapplers are not in awe of Brody. More...
If you'd like to discuss the Central States region with other fans, please visit the KM Message Board

KM DVD/VHS Store 4
Click here to purchase DVD or VHS products direct from the official distributors.
KM Replica Masks 4
Click here to purchase pro quality replica wrestling masks of all your favorite old school masked wrestlers.
KM Store 4
The KM Store now features products featuring the GCW logo as well as some other very cool images. To see what's new and to purchase T-Shirts, ball caps, mouse pads and more, click here.
KM Message Board 4
Want to chat with other fans of regional wrestling? This message board has forums for over two dozen promotions. Click here.
KM Belt Gallery 4
This section contains an extensive title belt gallery... images of heavyweight, tag, U.S. and various regional title belts. To view it, click here.
Old School Tape Review 4
Reviews of various PPV's, commercial tapes and regional wrestling TV shows are available in this section. To read more, click here.
Website designed & maintained by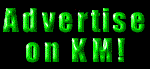 Thanks for visiting!