Regional Territories 4
This section contains monthly articles on over two dozen territories. To relive those wonderful days of old, click here.
Wrestlers 4
Enter this section for bios/profiles of various wrestlers from the regional days. To find more out about your favorite pro wrestler, click here.
Stories 4
This section contains stories from the pros themselves told exclusively to Kayfabe Memories. Want to know more as told from the wrestlers themselves? Click here.
Old School Book Reviews4
Click here to find various book reviews from old school wrestlers.
KM Links 4
For tons of links to old school related sites, click
here
.
KM Micro Wrestlers4
What are Micro Wrestlers? Click here
to find out.
KM Interviews... 4
Click here to read exclusive interviews with stars from the regional territories.
www.kayfabememories.com is © 2004 AtomDesigns. All promotional art, characters, logos and other depictions are © their respective owners. All Rights Reserved.
All contents save Wrestler Stories are © Kayfabe Memories.
Website designed and maintained by AtomDesigns © 2004 . If you experience any problems with this site or have any questions, please contact the Webmaster.
- Tony D.

"Bulldog" Bob Brown wrestled for many years in The Central States area, while "Mad Dog" Buzz Sawyer was only brought in on rare occasions to "work the loop", but in early 1984, both of them wrestled in The Central States area and they each wrestled "Crazy" Luke Graham.

This event is one fall with television time remaining. Introducing from Winnipeg, Canada weighting 254 pounds, "Bulldog" Bob Brown. His opponent, from New York, New York weighing 302 pounds. "Crazy" Luke Graham. And our TV main event, the legend himself, Bulldog Bob Brown taking on Crazy Luke Graham says Rick Stewart. Sonny Myers is the Referee for this match. Brown attacked Graham on the floor before the bell. Brown has been loved and hated by fans all over the world. They lock up collar and elbow after the bell rings. Luke Graham backed Bob Brown into the corner but Bob Brown got out of the way before Graham could attack him in the corner. Graham with a punch and Brown with a punch of his own. They lock up again and Brown gets the advantage with a side headlock. Sonny Myers is standing behind Bob Brown, and he couldn't see poke Graham in the eye. Luke Graham backs Bob Brown into the corner and Graham with a kneelift and a punch. They lock up again and Graham gets behind Brown and Graham puts him in a full nelson. Luke Graham with the advantage on Bob Brown with that full nelson. Bob Brown's neck was injured several months ago (by Triple Six). Graham breaks the full nelson so he can give Brown a forearm smash. Bob Brown is mad and he's chasing Graham and his fists are clenched. Sonny Myers warns Brown not to punch Graham. They lock up again and Graham bit Brown on the arm. They lock up in a test of strength and Brown got his revenge by biting Graham's arm. We take a commercial break.

We come back from commercial and Graham is choking Brown. Luke with a double axehandle on Brown. Luke with a elbowdrop and he goes for a pin and he gets a two count. Graham by blocking Sonny Myers' view and Myers couldn't see Graham choking Brown as he got that two count. Sonny Myers has had his hands full trying to restore order in the ring. Luke Graham with a sleeper on Bob Brown. Brown struggles to get to his feet, and when he does, Graham uses a handful of hair to take Brown down to the mat. More...

If you'd like to discuss the Central States region with other fans, please visit the KM Message Board

KM DVD/VHS Store 4
Click here to purchase DVD or VHS products direct from the official distributors.
KM Replica Masks 4
Click here to purchase pro quality replica wrestling masks of all your favorite old school masked wrestlers.
KM Store 4
The KM Store now features products featuring the GCW logo as well as some other very cool images. To see what's new and to purchase T-Shirts, ball caps, mouse pads and more, click here.
KM Message Board 4
Want to chat with other fans of regional wrestling? This message board has forums for over two dozen promotions. Click here.
KM Belt Gallery 4
This section contains an extensive title belt gallery... images of heavyweight, tag, U.S. and various regional title belts. To view it, click here.
Old School Tape Review 4
Reviews of various PPV's, commercial tapes and regional wrestling TV shows are available in this section. To read more, click here.
Website designed & maintained by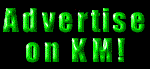 Thanks for visiting!