Regional Territories 4
This section contains monthly articles on over two dozen territories. To relive those wonderful days of old, click here.
Wrestlers 4
Enter this section for bios/profiles of various wrestlers from the regional days. To find more out about your favorite pro wrestler, click here.
Stories 4
This section contains stories from the pros themselves told exclusively to Kayfabe Memories. Want to know more as told from the wrestlers themselves? Click here.
Old School Book Reviews4
Click here to find various book reviews from old school wrestlers.
KM Links 4
For tons of links to old school related sites, click
here
.
KM Micro Wrestlers4
What are Micro Wrestlers? Click here
to find out.
KM Interviews... 4
Click here to read exclusive interviews with stars from the regional territories.
www.kayfabememories.com is © 2004 AtomDesigns. All promotional art, characters, logos and other depictions are © their respective owners. All Rights Reserved.
All contents save Wrestler Stories are © Kayfabe Memories.
Website designed and maintained by AtomDesigns © 2004 . If you experience any problems with this site or have any questions, please contact the Webmaster.
- Tony D.

Art Crews started wrestling in 1981 as a face but in 1986 he turned heel and was managed by Slick. Crews teamed with "Diamond" Timothy Flowers as The Dream Team. On March 6, 1986, Rick Stewart was in the ring with The Dream Team and Slick for an interview.

Rick Stewart: We're with the self-proclaimed "Doctor of Style" Slick, and his tag team tandem of Art Crews and "Diamond" Timothy Flowers. I can't believe... why, Art, why?

Slick: If I told you once, I told you twice, I do all the talking, and don't you ever forget that. Y'know, when I first came to the Central States area, I told you people that "Slick-A-Mania" was gonna run wild. And now you've had a chance to see what Slick-A-Mania is all about. Y'know everywhere I've gone since I've been here, all these ugly women have been following me around, begging for my autograph, begging for a handout. Lemme tell ya something, I wouldn't give a cripple a crutch if I owned the lumber yard, so don't be begging me for nothing. I'm a rich man and you know it, but I don't give no handouts to no lowlifes like all of you Kansas people.

Lemme tell ya something about The Batten Twins. You've got something that The Slickster wants, and that's the tag team championship belts. Y'know, since I've been here, people like Marty Jannetty, Butch Reed and Rufus R. Jones, they've been talking about what's gonna happen and what they're gonna do. Well lemme tell ya something, there's a brand new Sheriff in town and his name is Brother Slick. The Slickster and sometimes the trickster. Now, all of Professional Wrestling is talking about what happened here last week. When we made Sergeant Slaughter, Sergeant "Slow-Motion" Slaughter, the All-American Hero look like the All-American fool. I told you that Slick-A-Mania was gonna bring some surprises, well you saw it last week, right here. Here it is. Wrestling's new odd couple, The Dream Team. Y'know, people's been calling me, Gary Hart called me, Oliver Humperdink called me, Scandor Akbar called me, they all wanted to know how I did it.

I'll tell you how I did it, M-O-N-E-Y! Money talks, and bull-jive walks. We going all the way to the top, this express is gonna roll right over everybody. Moving and grooving, styling and profiling, like only I can do, now can ya dig it?

Rick Stewart: Certainly the Central States is never gonna be the same after the arrival of Slick and his new tag team, "Diamond" Timothy Flowers and Art Crews. More All-Star Wrestling coming up, you stay with us. More...

If you'd like to discuss the Central States region with other fans, please visit the KM Message Board

KM DVD/VHS Store 4
Click here to purchase DVD or VHS products direct from the official distributors.
KM Replica Masks 4
Click here to purchase pro quality replica wrestling masks of all your favorite old school masked wrestlers.
KM Store 4
The KM Store now features products featuring the GCW logo as well as some other very cool images. To see what's new and to purchase T-Shirts, ball caps, mouse pads and more, click here.
KM Message Board 4
Want to chat with other fans of regional wrestling? This message board has forums for over two dozen promotions. Click here.
KM Belt Gallery 4
This section contains an extensive title belt gallery... images of heavyweight, tag, U.S. and various regional title belts. To view it, click here.
Old School Tape Review 4
Reviews of various PPV's, commercial tapes and regional wrestling TV shows are available in this section. To read more, click here.
Website designed & maintained by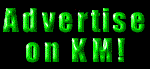 Thanks for visiting!