Regional Territories 4
This section contains monthly articles on over two dozen territories. To relive those wonderful days of old, click here.
Wrestlers 4
Enter this section for bios/profiles of various wrestlers from the regional days. To find more out about your favorite pro wrestler, click here.
Stories 4
This section contains stories from the pros themselves told exclusively to Kayfabe Memories. Want to know more as told from the wrestlers themselves? Click here.
Old School Book Reviews4
Click here to find various book reviews from old school wrestlers.
KM Links 4
For tons of links to old school related sites, click
here
.
KM Micro Wrestlers4
What are Micro Wrestlers? Click here
to find out.
KM Interviews... 4
Click here to read exclusive interviews with stars from the regional territories.
www.kayfabememories.com is © 2004 AtomDesigns. All promotional art, characters, logos and other depictions are © their respective owners. All Rights Reserved.
All contents save Wrestler Stories are © Kayfabe Memories.
Website designed and maintained by AtomDesigns © 2004 . If you experience any problems with this site or have any questions, please contact the Webmaster.
- Tony D.
On March 13, 1986 in Kansas City, Akio Sato won a 14 man over the top rope Battle Royal to become the Central States Television Champion. Sato last eliminated Tommy Wright to win the title. I don't know exactly who all was in the Battle Royal, but 14 wrestlers were on the card that night, so presumably they are the 14 wrestlers that were in the Battle Royal. The 14 wrestlers that were on the card that night were: "Bulldog" Bob Brown, Kevin The Magnificent (AKA "Hercules" Kevin Kelly/Nailz), Brad Batten, Bart Batten, Art Crews, Mike George, "Diamond" Timothy Flowers, Sheik Abdullah The Great, Ric McCord, "Hacksaw" Butch Reed, Rufus R. Jones, Tarzan Goto, Tommy Wright and Akio Sato. I would assume that those 14 were in the 14 man battle royal.
On March 27, 1986 in Kansas City, Akio Sato put the Television Title on the line in a one on one match against Tommy Wright.
Rick Stewart: "Ladies and Gentlemen, your first match is one fall with a 15 minute time limit, for the Central States TV Wrestling Championship. Your Referee is Sonny Myers. The defending champion weighs in at 231 lbs. from Japan, the Central States TV champion, Akio Sato. The challenger 228, Tampa's Tommy Wright. One fall, a title match."
Rick Stewart tells Kevin Wall that Wright has wrestled for five years and that Tommy "spent a tremendous amount of time in the southern area of the United States. He's wrestled all through Louisiana, through Northwest Florida where I had the opportunity to meet him several years ago." Akio Sato was no stranger to the Central States area, having wrestled there in 1975 as a face teaming with the likes of Jerry Oates, Omar Atlas, The Viking. Sato was back in The Central States area in August of 1979 as a heel. Akio Sato was back in the Central States area in 1985 as a face for about a month before turning heel. He was with the promotion from August 1985 for almost a year.
Tommy and Akio circle each other cautiously. Sato goes back to a corner and Sato asked Referee Sonny Myers to warn Tommy about the fist. Wright had his fist clenched but he released it. Sato takes a few steps out of the corner and they lock up collar-and-elbow. Sato is backed up back into the corner and Tommy once again is ready to throw a punch, but he backed off. They lock up again and Sato gets Wright in a headlock and once Sonny Myers is out of position, Akio punches Tommy in the throat. They lock up again and Sato once again with a headlock and a fist to the throat. They lock up again and Tommy Wright with a headlock. Akio Sato pushes off Tommy and as Wright bounces off the ropes, he catches Sato with a shoulderblock. Wright with a bodyslam, a hiplock takedown and a headlock as Sato is down on the mat. Sato rolled Wright into a pinning predicament, but only for a two count. They get back to a vertical base and Sato backed Wright into a corner. Sato with a punch and an Irish Whip into the opposite corner. Sato followed Wright in, but Wright moved out of the way and Sato's kneelift missed Wright and Sato hit the top turnbuckle knee first.
Wright kicked Sato twice in the leg and Wright with a splash on the leg. Wright with a kneedrop on Sato's leg and Wright follows up with a leglock. At the five minute mark, Wright with another kneedrop on Sato's leg. Two more kneedrops by Wright as Sato is desperately trying to reach the ropes. Wright stomped Sato's knee three times and followed up with a legdrop on Sato's leg. Sato is trying to stand up so Wright grabbed Sato's leg and Sato is hopping around on one foot.
More...
If you'd like to discuss the Central States region with other fans, please visit the KM Message Board

KM DVD/VHS Store 4
Click here to purchase DVD or VHS products direct from the official distributors.
KM Replica Masks 4
Click here to purchase pro quality replica wrestling masks of all your favorite old school masked wrestlers.
KM Store 4
The KM Store now features products featuring the GCW logo as well as some other very cool images. To see what's new and to purchase T-Shirts, ball caps, mouse pads and more, click here.
KM Message Board 4
Want to chat with other fans of regional wrestling? This message board has forums for over two dozen promotions. Click here.
KM Belt Gallery 4
This section contains an extensive title belt gallery... images of heavyweight, tag, U.S. and various regional title belts. To view it, click here.
Old School Tape Review 4
Reviews of various PPV's, commercial tapes and regional wrestling TV shows are available in this section. To read more, click here.
Website designed & maintained by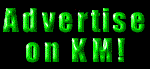 Thanks for visiting!