Regional Territories 4
This section contains monthly articles on over two dozen territories. To relive those wonderful days of old, click here.
Wrestlers 4
Enter this section for bios/profiles of various wrestlers from the regional days. To find more out about your favorite pro wrestler, click here.
Stories 4
This section contains stories from the pros themselves told exclusively to Kayfabe Memories. Want to know more as told from the wrestlers themselves? Click here.
Old School Book Reviews4
Click here to find various book reviews from old school wrestlers.
KM Links 4
For tons of links to old school related sites, click
here
.
KM Micro Wrestlers4
What are Micro Wrestlers? Click here
to find out.
KM Interviews... 4
Click here to read exclusive interviews with stars from the regional territories.
www.kayfabememories.com is © 2004 AtomDesigns. All promotional art, characters, logos and other depictions are © their respective owners. All Rights Reserved.
All contents save Wrestler Stories are © Kayfabe Memories.
Website designed and maintained by AtomDesigns © 2004 . If you experience any problems with this site or have any questions, please contact the Webmaster.
- Tony D.

On the episode of All-Star Wrestling from April 22, 1984, Kevin Wall said: "Kevin Wall back with you on All-Star Wrestling, and yíknow, we talk about some of the great names in

professional wrestling that you see week in and week out here on All-Star Wrestling. Well, one young man you probably have not seen too much of but you will be seeing in the near future is a man by the name of Stan Hansen. He is big, he weighs in at 290 pounds, stands about 6í3" and a lot of people down in Texas and throughout the southwest will tell you that the name Stan Hansen means perhaps more than even "King Kong" Bruiser Brody. Well, weíre gonna get a look at Stan Hansen in action as he takes on Mark Hill. So, letís roll the videotape and take a look at Stan Hansen against Mark Hill."

This match was from the Georgia area of the NWA. Scrappy McGowan was the referee and the commentary was edited out, itís pretty likely that Gordon Solie was commentating, possibly with Ole Anderson in this one since Ole and Stan had been a tag team. Mark Hill was the heel in this match and he raked Hansenís eyes at one point.

On the episode of All-Star Wrestling from May 13, 1984 (Motherís Day), Kevin Wall said "We want you to take a look at a recent match, Stan Hansen, one of the best wrestlers in all of the world, in Japan on tour. Letís roll the videotape." The first half of this segment is in Japanese and it shows Stan Hansen coming to the ring in Japan. Stan Hansen has a title belt and streamers are everywhere. Stan attacks Giant Baba at the bell and pounds him into the mat and then turns to the crowd and does the Texas sign with his fingers and yells "HOOOOOOOO". The fans throw in more streamers as Hansen beats on Baba, what is the deal with the streamers? The only words that you can understand from the commentators are "Stan Hansen" and "Stan Hansen with authority." Giant Baba eventually "Babaed up" (If Hulk Hogan "Hulked up" then Baba would "Baba Up"), the second half of this clip was a music video of Stan in action in Japan. Some of the footage from this video ended up in the introduction of All-Star Wrestling every week for several months.

The following week on All-Star Wrestling (May 20, 1984), they showed a match from May 10, 1984 between Stan Hansen and Baron Von Raschke. Also on this card was Barry Windham vs. Roger "Nature Boy" Kirby, Desiree Peterson vs. Judy Martin, and the main event I already talked about last month, Wahoo McDaniel vs. "Nature Boy" Ric Flair. So with such a loaded card, I would guess that they had a show in St. Louis probably on May 11th.

More...

If you'd like to discuss the Central States region with other fans, please visit the KM Message Board

KM DVD/VHS Store 4
Click here to purchase DVD or VHS products direct from the official distributors.
KM Replica Masks 4
Click here to purchase pro quality replica wrestling masks of all your favorite old school masked wrestlers.
KM Store 4
The KM Store now features products featuring the GCW logo as well as some other very cool images. To see what's new and to purchase T-Shirts, ball caps, mouse pads and more, click here.
KM Message Board 4
Want to chat with other fans of regional wrestling? This message board has forums for over two dozen promotions. Click here.
KM Belt Gallery 4
This section contains an extensive title belt gallery... images of heavyweight, tag, U.S. and various regional title belts. To view it, click here.
Old School Tape Review 4
Reviews of various PPV's, commercial tapes and regional wrestling TV shows are available in this section. To read more, click here.
Website designed & maintained by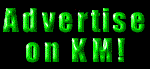 Thanks for visiting!