Regional Territories 4
This section contains monthly articles on over two dozen territories. To relive those wonderful days of old, click here.
Wrestlers 4
Enter this section for bios/profiles of various wrestlers from the regional days. To find more out about your favorite pro wrestler, click here.
Stories 4
This section contains stories from the pros themselves told exclusively to Kayfabe Memories. Want to know more as told from the wrestlers themselves? Click here.
Old School Book Reviews4
Click here to find various book reviews from old school wrestlers.
KM Links 4
For tons of links to old school related sites, click
here
.
KM Micro Wrestlers4
What are Micro Wrestlers? Click here
to find out.
KM Interviews... 4
Click here to read exclusive interviews with stars from the regional territories.
www.kayfabememories.com is © 2004 AtomDesigns. All promotional art, characters, logos and other depictions are © their respective owners. All Rights Reserved.
All contents save Wrestler Stories are © Kayfabe Memories.
Website designed and maintained by AtomDesigns © 2004 . If you experience any problems with this site or have any questions, please contact the Webmaster.
- Eric Westlund
I am going to use this monthís column to tie up some loose ends and recap some points I missed in my previous writings for the ICW history. First we will look at some of the rules and regulations, which made the promotion unique and different from its counter parts of the same era. Most importantly the promotion had an open challenge clause or stipulation. This meant that any wrestler within the promotion had to accept any challenge from wrestlers within the organization or from any competitors. This rule came into play many times to originate matches, plus was the basis for the groupís constant challenges to other organizations (i.e. Fuller and Jarrett Promotions). This was one of the groupís formulas, which made them interesting.
Another rule which was different other wrestling organizations of the time was the 20 second count out rule. Almost all promotions I have seen have a ten count in which at least one of the wrestlers must get back into the ring (or both will be counted out). This 20-second count out rule made for lots of action out on the arena floor, and I thought it was rather interesting.
One legal ruling which the promotion enacted I believe I neglected to write about before. In late 1980 Bob Orton Jr. was terrorizing foes with his pile driver. To prevent serious injury to any wrestler the ICW Board of Directors banned the pile driver at about the turn of the year. Because of this precedent, Bob had to change his finishing move from the pile driver to the bulldog headlock. Other wrestlers who were affected by this situation were one-man gang, Ronnie Garvin, and his archenemy, Randy Savage. Both of these individuals used this move quite extensively and were forced to refrain from using this hold.
However, the pile driver was reinstated as a legal move in October or November of 1981. At that time Savage used the move much more frequently to finish off opponents than I remembered previously. By that juncture though, Orton had moved on to the Mid-South region to wrestle.
Another rule, which seemed to constantly come into play, involved the television title. Due to time restrictions of the TV studio action all TV title matches were only 20 minutes long. However, a lot of times the television champion would defend this title at the local arenas. For these contests, although they may have been 30 or 60 minute matches, the belt was only on the line for the first 20 minutes. In one match I watched recently this rule came into effect. The Great TIO was defending the TV title against Crusher Broomfield. Crusher gained a clean pin fall victory in the match but was not awarded the belt as the victory occurred after the 20-minute mark.
Several other humorous skits at the TV studio, which I failed to describe, before involved the masked man The Best. As we all know, most of the time this was Bob Orton Jr. under a mask. In one incident, which I just discovered recently, Bob Roop was unmasked and shown to be The Best. However, I must explain further the situation. As John Back was getting ready to announce the competitors for a match, Izzy Slapowitz and his man Orton ran out to the podium and said they had captured the masked villain of the promotion. Orton literally carried a carcass of a man out to the arena floor and dropped him in front of the cameras. The two said they had stumbled upon this gentleman backstage and were going to show the fans their discovery. More...
If you'd like to discuss the ICW (Poffo) region with other fans, please visit the KM Message Board

KM DVD/VHS Store 4
Click here to purchase DVD or VHS products direct from the official distributors.
KM Replica Masks 4
Click here to purchase pro quality replica wrestling masks of all your favorite old school masked wrestlers.
KM Store 4
The KM Store now features products featuring the GCW logo as well as some other very cool images. To see what's new and to purchase T-Shirts, ball caps, mouse pads and more, click here.
KM Message Board 4
Want to chat with other fans of regional wrestling? This message board has forums for over two dozen promotions. Click here.
KM Belt Gallery 4
This section contains an extensive title belt gallery... images of heavyweight, tag, U.S. and various regional title belts. To view it, click here.
Old School Tape Review 4
Reviews of various PPV's, commercial tapes and regional wrestling TV shows are available in this section. To read more, click here.
Website designed & maintained by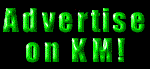 Thanks for visiting!