Regional Territories 4
This section contains monthly articles on over two dozen territories. To relive those wonderful days of old, click here.
Wrestlers 4
Enter this section for bios/profiles of various wrestlers from the regional days. To find more out about your favorite pro wrestler, click here.
Stories 4
This section contains stories from the pros themselves told exclusively to Kayfabe Memories. Want to know more as told from the wrestlers themselves? Click here.
Old School Book Reviews4
Click here to find various book reviews from old school wrestlers.
KM Links 4
For tons of links to old school related sites, click
here
.
KM Micro Wrestlers4
What are Micro Wrestlers? Click here
to find out.
KM Interviews... 4
Click here to read exclusive interviews with stars from the regional territories.
www.kayfabememories.com is © 2004 AtomDesigns. All promotional art, characters, logos and other depictions are © their respective owners. All Rights Reserved.
All contents save Wrestler Stories are © Kayfabe Memories.
Website designed and maintained by AtomDesigns © 2004 . If you experience any problems with this site or have any questions, please contact the Webmaster.
- Eric Westlund
Well, I finally got my cache of old ICW tapes and I am here to elaborate on items, which I eluded to previously, setting the record straight. This column, we will go back to 1981 and recap some items and personalities that were left untended to in my prior writings.
First off, we will examine Pistol Pez Whatley. Always a fan favorite since his introduction to the ICW fans, Pez talked about a change to come in a television interview in June of 1981. This explanation was as the show was signing off, and Pez bragged about a new attitude in the coming weeks. This change would be evident to the fans that watched his next tag team match in Lexington that Sunday.
On this card, Pez was scheduled to team with Leaping Lanny against Rip Rogers and Ricky Starr in a two out of three fall match. I am not positive whether Gary Royal had incorporated himself with the other two blondes at this juncture but that fact is not relevant to this explanation. Lanny started out the match holding his own against both his opponents eventually capturing the first fall through submission via the sleeper hold on Ricky Starr. During the break between falls, Pez seemed irritated he had not got into the action as of yet. The second fall started with the same two competitors (Lanny and Starr) and the balance of power quickly shifted to the bad guys. They kept Lanny double teamed in their corner through a variety of maneuvers, some legal and some not. Pez at this point jawed with the crowd, stating Lanny needed to take care of himself and left the ring apron pacing on the floor. Lanny eluded his two foes to get into a position for a tag to his partner on two occasions but Pez was nowhere to be found as he was on the concrete floor. Finally after several more minutes of punishment from the team of Rogers and Starr, Lanny was pinned in the second fall. At this time Pez proceeded to walk part way back to the dressing room berating Lanny and his grandstanding and showboating in the first fall. The fans were repeatedly begging Pez to come back and help his partner but the pistol man was going to have none of it. After five or six more minutes of celebrating their two on one match against Lanny, Rogers and Starr captured the third fall sealing Pezís movement to the dark side.
Pezís status as a former face was quickly brought to the forefront by his next actions. Also, at this particular time, Randy Savage had been experiencing difficulty with the Devil's Duo and Izzy Slapowitz. Randy had even gone as far as to place a two thousand dollar bounty on the head of the manager of the former tag team champions. Television fans that watched the next weekís show witnesses a beat down in the hallway of one of the arenas in which Pez (dressed in the Destroyer outfit) and Savage took Izzy out and hurt him bad. This also happened to be the last time the fans would see Slapowitz as he and his team left the promotion to go to Black Jack Mulliganís NWA area.
Let me now explain some circumstances and instances involving the character of the Destroyer. Originally the first appearance of the Destroyer was during a battle royal. The last five competitors left in the fracas were Ronnie Garvin, Leaping Lanny, Izzy Slapowitz, and the Devilís Duo. As Garvin went to piledrive Jeff Sword, a mysterious man in a full body suit of white with a white mask bolted to the ring. This person proceeded to mount the top rope and hit Garvin on top of the head with a 2 x 4 board causing him to be knocked unconscious. The white intruder then turned his attention to Slapowitz who at the time was on Savageís bad list. Izzy was saved by his two cohorts, and the Destroyer bailed as he did not like his odds against the Devilís Duo.
Savage at this particular time had vowed not to return to the TV studio due to his embarrassment at the hands of Bob Roop and Ronnie Garvin. This had occurred during a cage match at the TV studio where the Assassin (Bob Roop under mask) and Garvin had tricked Savage and got him in the cage for a two on one thrashing. Savage always concerned with his image as world champion, stated he would never be on the TV matches again to punish the viewing fans. This circumstance led Randy to appear under the guise as the Destroyer for a four or five week period, using all his patented moves giving no doubt who was under the outfit. More...
If you'd like to discuss the ICW (Poffo) region with other fans, please visit the KM Message Board

KM DVD/VHS Store 4
Click here to purchase DVD or VHS products direct from the official distributors.
KM Replica Masks 4
Click here to purchase pro quality replica wrestling masks of all your favorite old school masked wrestlers.
KM Store 4
The KM Store now features products featuring the GCW logo as well as some other very cool images. To see what's new and to purchase T-Shirts, ball caps, mouse pads and more, click here.
KM Message Board 4
Want to chat with other fans of regional wrestling? This message board has forums for over two dozen promotions. Click here.
KM Belt Gallery 4
This section contains an extensive title belt gallery... images of heavyweight, tag, U.S. and various regional title belts. To view it, click here.
Old School Tape Review 4
Reviews of various PPV's, commercial tapes and regional wrestling TV shows are available in this section. To read more, click here.
Website designed & maintained by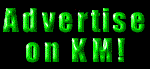 Thanks for visiting!