Regional Territories 4
This section contains monthly articles on over two dozen territories. To relive those wonderful days of old, click here.
Wrestlers 4
Enter this section for bios/profiles of various wrestlers from the regional days. To find more out about your favorite pro wrestler, click here.
Stories 4
This section contains stories from the pros themselves told exclusively to Kayfabe Memories. Want to know more as told from the wrestlers themselves? Click here.
Old School Book Reviews4
Click here to find various book reviews from old school wrestlers.
KM Links 4
For tons of links to old school related sites, click
here
.
KM Micro Wrestlers4
What are Micro Wrestlers? Click here
to find out.
KM Interviews... 4
Click here to read exclusive interviews with stars from the regional territories.
www.kayfabememories.com is © 2004 AtomDesigns. All promotional art, characters, logos and other depictions are © their respective owners. All Rights Reserved.
All contents save Wrestler Stories are © Kayfabe Memories.
Website designed and maintained by AtomDesigns © 2004 . If you experience any problems with this site or have any questions, please contact the Webmaster.
- Greg Mosorjak
In the 1960's and through the 1970's wrestling had some great heel wrestlers. We hated them, feared them but every week we tuned in or went to the arena to see if our favorites could over come evil. The Pittsburgh Studio Wrestling show as well as the Cleveland-Buffalo NWF had a great cross section of heels. I am not going to go into the crossover wrestlers like The Sheik, who wrestled frequently in Cleveland and Buffalo but was based out of Detroit, or Ivan Koloff who would come into Pittsburgh for a short stay to get ready for a program with Bruno in the WWWF. I am going to concentrate on the region specific heels.
I guess with one exception that being George "The Animal" Steele. Long before his green tongue and chewing turnbuckles in the WWF, George was the top heel challenger for Bruno Sammartino. Based at this time out of Detroit, Steele would spend his weekends in Pittsburgh trying to destroy Bruno Sammartino, Dominic DeNucci or Johnny DeFazio. Steele was every bit as wild and unorthodox as in his later career which most are familiar with.
But the George Steele that Pittsburgh fans remember, had excellent wrestling ability, used the flying hammerlock to finish off opponents, and occasionally had moments where he was the smooth speaking villain, calling announcer Bill Cardille Daddy-O. Steele's feud with Bruno has to go down in the history of this territory as the number one feud. They met in every conceivable type of match in every town. Steele would also wrestle in the WWWF and Detroit while being the top heel in the Pittsburgh area.
One wrestler had had great success in both Pittsburgh and the NWF was Waldo von Erich. Waldo gained early fame teaming with Fritz von Erich in Texas and the Midwest. Once moving into the Steel Triangle of Pittsburgh, Buffalo and Cleveland, Waldo would become one of the top heels for many years. Waldo was a 2- time NWF champion winning the belt from both Johnny Powers and Dominic DeNucci. He also beat Ernie Ladd for the NWF North American title. In the NWF he was renown for his feuds with Billy Red Lyons, Johnny Powers and Lord Layton, he would have perhaps his best feud with Dominic DeNucci that would spill over into Pittsburgh. Waldo even teamed with DeNucci for a few shows only to turn on him, when DeNucci refused to cheat. Waldo would have many shots at Bruno Sammartino's WWWF title in Pittsburgh and surrounding towns. Later after the demise of the territory, Waldo would have sellout matches in the WWWF at Madison Square Garden with Bruno.
Abdullah the Butcher, is a wrestler that has had success in almost every territory that ever existed, the NWF was no exception. In 1972 Abdullah the Butcher defeated Ernie Ladd for the NWF title, that same year he would lose it to Victor Rivera before winning it back. He would lose it to Johnny Valentine shortly later. Abdullah was managed by, Bruce Swayze, while in the NWF. The Mad Man from the Sudan was as wild and blood thirsty at this time as fans remember him today. Abdullah's feuds with The Sheik, Johnny Powers, Victor Rivera and Ernie Ladd are classics from this time period.
Dick "The Bulldog" Brower saw success in both Pittsburgh and the NWF. Brower held the North American Title before losing it in 1972 to Ernie Ladd. Brower is a loud bad mouthing brawler whose bark was as bad as his bite. Brower's whose eyes would bulge out when he got excited had great feuds with the Mighty Igor (that carried over into Detroit and the IWA), Johnny Powers and in Pittsburgh got shots at Bruno Sammartino.
Johnny Valentine was another wrestler who had great success in Pittsburgh as a heel but his tenure in the NWF would be where he would achieve his greatest success. Johnny is only wrestler to simultaneously hold the NWF World title and North American title (in 1972). Johnny would hold the NWF title twice beating Abdullah the Butcher in 1972 for the first one and Jacques Rougeau in 1973 for the second time. He never lost the first title as he was stripped of the title. Johnny Valentines feud with Johnny Powers is one of the best from this territory. It was Johnny Powers that ended his second title run in 1973. Johnny would go on to great success in the Mid Atlantic region until a plane crash in 1975 would end his career.
More...

KM DVD/VHS Store 4
Click here to purchase DVD or VHS products direct from the official distributors.
KM Replica Masks 4
Click here to purchase pro quality replica wrestling masks of all your favorite old school masked wrestlers.
KM Store 4
The KM Store now features products featuring the GCW logo as well as some other very cool images. To see what's new and to purchase T-Shirts, ball caps, mouse pads and more, click here.
KM Message Board 4
Want to chat with other fans of regional wrestling? This message board has forums for over two dozen promotions. Click here.
KM Belt Gallery 4
This section contains an extensive title belt gallery... images of heavyweight, tag, U.S. and various regional title belts. To view it, click here.
Old School Tape Review 4
Reviews of various PPV's, commercial tapes and regional wrestling TV shows are available in this section. To read more, click here.
Website designed & maintained by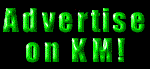 Thanks for visiting!