Regional Territories 4
This section contains monthly articles on over two dozen territories. To relive those wonderful days of old, click here.
Wrestlers 4
Enter this section for bios/profiles of various wrestlers from the regional days. To find more out about your favorite pro wrestler, click here.
Stories 4
This section contains stories from the pros themselves told exclusively to Kayfabe Memories. Want to know more as told from the wrestlers themselves? Click here.
Old School Book Reviews4
Click here to find various book reviews from old school wrestlers.
KM Links 4
For tons of links to old school related sites, click
here
.
KM Micro Wrestlers4
What are Micro Wrestlers? Click here
to find out.
KM Interviews... 4
Click here to read exclusive interviews with stars from the regional territories.
www.kayfabememories.com is © 2004 AtomDesigns. All promotional art, characters, logos and other depictions are © their respective owners. All Rights Reserved.
All contents save Wrestler Stories are © Kayfabe Memories.
Website designed and maintained by AtomDesigns © 2004 . If you experience any problems with this site or have any questions, please contact the Webmaster.
- Greg Mosorjak
This month I will take a look at the tag teams from the NWF area of Cleveland and Buffalo as well as the Pittsburgh Territory.
The Mongols
Tony Newberry was an ok Prelim/jobber in the Capitol Wrestling/WWWF territory, but when he shaved his head, changed his name to Geeto and teamed with newcomer Bepo, (Niccoli Volkoff) to form the Mongols, he became a major star. Geeto & Bepo would rule the Pittsburgh Territory as well as the WWWF in the early 1970's. Geeto would buy the Pittsburgh office from Bruno and run it for several years. The Mongols dominated all tag teams and held the International tag team titles. The Mongols also held the NWF World Tag titles in 1971. Managed by both Tony Angelo and Capt. Lou Albano, they were dangerous heels, predating the Road Warriors in dominance over tag team wrestling. Even after turning face, they still were a top team and dangerous singles wrestlers. After they split Geeto would win another tag title with Johnny DeFazio in Pittsburgh and would later reform the Mongols with a young Bill Eadie as Bolo Mongol in the IWA and Mid Atlantic areas. The Mongols should be considered one of the great tag teams of all time.
Donnie & Johnny Fargo
Don Fargo was an established tag team specialist having been part of many teams including another version of the Fargo Brothers. Johnny, the soon to be Greg Valentine was a young star with a lot ahead of him. Together they ruled the NWF, defeating all teams and feuding with the likes of Tony Parisi & Luis Martinez, Victor Rivera & Manuel Soto, and in Pittsburgh Dan & Bill Miller and Bruno Sammartino & Dominic DeNucci.
Classic arrogant heels, the Fargo's used effective heel tag moves to dominate the NWF and Pittsburgh tag scenes. They held the NWF tag titles in 1972.
The Castillo Brothers
Cuban tag team of Fidel & Raul Castillo was another dominant heel team in the NWF. Rarely venturing into Pittsburgh, they dominated to tag scene in the NWF in the early 1970's. While never holding tag gold in the NWF they were always a tough team and had classic battles with The McGuire Brothers, Luis Martinez & Tony Parisi, and others.
Kurt von Hess & Karl von Shotz
The wily team of German goose stepping nazi heels were an extremely successful team in the NWF. Holding both the NWF World tag titles and the North American Tag titles, they would feud with Luis Martinez & Fred Curry (trading the NWA Tag titles in Detroit as well), Victor Rivera & Manuel Soto and others.
The Love Brothers
Hartford & Reginald Love, 2 colorful hippies were a main stay of the 1970's tag team scene, they would have success in many areas and the NWF was no exception. They feuded with Luis Martinez and various tag partners such as Fred Curry, Tony Parisi, Dominic DeNucci and Chief White Owl. Managed by Beautiful Bruce Swayze (later in the IWA by Al Costello) another team that has to go down as one of the all time great heel teams. They would occasionally venture into Pittsburgh to take on the likes of Johnny DeFazio & Frank Holtz.
The Fabulous Kangaroos
The Original version of Al Costello & Roy Heffernan wrestled throughout this area in the 1960's. The second version of Al Costello & Don Kent, hand a good run through the NWF and Pittsburgh in the early 1970's. Yet another great heel tag team, that appeared in this area during this time span.
Luis Martinez & Tony Parisi
This was the top baby tag team in the NWF in the early 1970's. They would feud with everyone from the Mongols, The Fargo Brothers, Love Brothers, Castillos and Von Hess & Von Shotz. Extremely popular the energetic Martinez and the pragmatic Parisi were a team that went against the best. They would hold the NWF tag titles beating the Fargos in 1972.
More...

KM DVD/VHS Store 4
Click here to purchase DVD or VHS products direct from the official distributors.
KM Replica Masks 4
Click here to purchase pro quality replica wrestling masks of all your favorite old school masked wrestlers.
KM Store 4
The KM Store now features products featuring the GCW logo as well as some other very cool images. To see what's new and to purchase T-Shirts, ball caps, mouse pads and more, click here.
KM Message Board 4
Want to chat with other fans of regional wrestling? This message board has forums for over two dozen promotions. Click here.
KM Belt Gallery 4
This section contains an extensive title belt gallery... images of heavyweight, tag, U.S. and various regional title belts. To view it, click here.
Old School Tape Review 4
Reviews of various PPV's, commercial tapes and regional wrestling TV shows are available in this section. To read more, click here.
Website designed & maintained by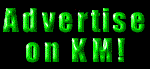 Thanks for visiting!