Regional Territories 4
This section contains monthly articles on over two dozen territories. To relive those wonderful days of old, click here.
Wrestlers 4
Enter this section for bios/profiles of various wrestlers from the regional days. To find more out about your favorite pro wrestler, click here.
Stories 4
This section contains stories from the pros themselves told exclusively to Kayfabe Memories. Want to know more as told from the wrestlers themselves? Click here.
Old School Book Reviews4
Click here to find various book reviews from old school wrestlers.
KM Links 4
For tons of links to old school related sites, click
here
.
KM Micro Wrestlers4
What are Micro Wrestlers? Click here
to find out.
KM Interviews... 4
Click here to read exclusive interviews with stars from the regional territories.
www.kayfabememories.com is © 2004 AtomDesigns. All promotional art, characters, logos and other depictions are © their respective owners. All Rights Reserved.
All contents save Wrestler Stories are © Kayfabe Memories.
Website designed and maintained by AtomDesigns © 2004 . If you experience any problems with this site or have any questions, please contact the Webmaster.
- Greg Mosorjak
This month I will look at the year 1972 in Cleveland, Ohio wrestling history. This was the big year for the NWF. This was the year that its premier event was held, the Super Bowl of Wrestling. Today this event could not take place, not that the WWE doesn't hold major events but that the term "Super Bowl" is copy righted and cannot be used to describe any event except the actual football game held the last weekend in January.
Any way back to Cleveland 1972 and the angles that led up to this event held on August 12, 1972 at Municipal Stadium in Cleveland. By 1972 Cleveland was getting a heavy dose of Detroit talent to supplement the local NWF stars. The Sheik, Bobo Brazil, Ben Justice, The Kangaroos, etc. were now staples throughout the territory (including Buffalo). Waldo Von Erich started a big year for him by defeating Dominic DeNucci for the NWF World Title. Waldo would lose that title on June 9th of that year to The Big Cat, Ernie Ladd in Cleveland. But just 15 days later in Akron, Oh at the Firestone Armory, Abdullah the Butcher with outside help from his manager the Black Baron (Beautiful Bruce Swayze) defeated Ladd to win the NWF World title, setting up their match on the Super Bowl of Wrestling. Ladd was a new baby face, having been turned on in 1971 in a tag match by Ox Baker. Ladd would defeat Crazy Luke Graham for the NWF Brass Knuckles title, but afterwards the title would fade into obscurity.
The promotions other top baby face at the time was Johnny Powers. Powers was involved in two big feuds in 1972. One was with the Sheik, the other with veteran Johnny Valentine. These two had traded the North American Title back and forth in 1972. But as summer rolled around their battles revved up. Prior to a June 16thg match in Cleveland, Valentine attacked Powers before the bell, breaking his nose and getting disqualified. When the "Super Bowl of Wrestling" rolled around, it would be the Johnny Powers vs. Johnny Valentine match headlining the show, not the NWF World title match.
THE NWF Tag Titles changed his frequently early in 1972 with numerous teams holding them, and unclear title changes fogging the picture. At some point Mitsu Arakawa & Yoshino Sato lost the belts in March to Tony Parisi and Dominic DeNucci. They would lose them on May 11th in Cleveland to Donnie & Johnny (Greg Valentine) Fargo. The Fargo's would defeat all challengers and had a good run in Pittsburgh at this time feuding with DeNucci & Bruno Sammartino. The Fargo's positioned themselves to be in a top match at the Super Bowl as well.
Promoter Pedro Martinez drew very well at the small several thousand seat Cleveland Arena. The thought was to make this a super card that would draw fans from far and wide for an event. While the Municipal Stadium held in excess of 70, 000 people, the Super Bowl of Wrestling only drew little more than 14,000. This would be a disaster by today's standards and even compared to what major outdoor shows drew at Cominsky Park in Chicago or the Hollywood Bowl in Los Angeles at about the same time, it was a disaster. Martinez held a tag team tournament, the prize was not the NWF Tag titles or even a shot at them, and it was just to be the winner of the Tag tournament. He also held a Women's Tag tournament and a Midget tag tournament on the same card. Again not title shots awarded on the show as the World Women's Tag team championship, Donna Christenello & Toni Rose defended that title on the show as well. The Fabulous Moolah defended her title on the show also against Vicki Williams. That was five women's matches and 3 midget matches on this show. At this time women's wrestling was much more of a novelty than it is today. The same can be said for the midget matches (which are still a novelty). A much bigger impact and perhaps draw would have been to bring in wrestlers from close by promotions. The Sheik was not a part of this show for one thing. Adding perhaps Bruno Sammartino from Pittsburgh (not that Bruno was a big draw in Cleveland) might have helped. Buffalo, was part of this territory (as was Pittsburgh at this time) was getting wrestlers from Toronto and Montreal. These wrestlers would have helped make this a bigger event. Of course 14,000 would have been pretty good for the Cleveland Indians to draw at this time.
I remember seeing games that year at the stadium that drew closer to 5000 people. Bobo Brazil did defend the Detroit promotions US title on the show against Killer Brooks. In the tag tournament first round, Victor Rivera & Manuel Soto vs. Waldo von Erich & Karl von Stroheim were both disqualified. (Eliminating 2 of the promotions biggest stars in the first match of the night (Von Erich and Rivera were both former NWF champions).
More...
If you'd like to discuss the Pittsburgh/Buffalo/Cleveland region with other fans, please visit the
KM Message Board

KM DVD/VHS Store 4
Click here to purchase DVD or VHS products direct from the official distributors.
KM Replica Masks 4
Click here to purchase pro quality replica wrestling masks of all your favorite old school masked wrestlers.
KM Store 4
The KM Store now features products featuring the GCW logo as well as some other very cool images. To see what's new and to purchase T-Shirts, ball caps, mouse pads and more, click here.
KM Message Board 4
Want to chat with other fans of regional wrestling? This message board has forums for over two dozen promotions. Click here.
KM Belt Gallery 4
This section contains an extensive title belt gallery... images of heavyweight, tag, U.S. and various regional title belts. To view it, click here.
Old School Tape Review 4
Reviews of various PPV's, commercial tapes and regional wrestling TV shows are available in this section. To read more, click here.
Website designed & maintained by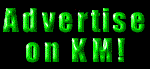 Thanks for visiting!