Regional Territories 4
This section contains monthly articles on over two dozen territories. To relive those wonderful days of old, click here.
Wrestlers 4
Enter this section for bios/profiles of various wrestlers from the regional days. To find more out about your favorite pro wrestler, click here.
Stories 4
This section contains stories from the pros themselves told exclusively to Kayfabe Memories. Want to know more as told from the wrestlers themselves? Click here.
Old School Book Reviews4
Click here to find various book reviews from old school wrestlers.
KM Links 4
For tons of links to old school related sites, click
here
.
KM Micro Wrestlers4
What are Micro Wrestlers? Click here
to find out.
KM Interviews... 4
Click here to read exclusive interviews with stars from the regional territories.
www.kayfabememories.com is © 2004 AtomDesigns. All promotional art, characters, logos and other depictions are © their respective owners. All Rights Reserved.
All contents save Wrestler Stories are © Kayfabe Memories.
Website designed and maintained by AtomDesigns © 2004 . If you experience any problems with this site or have any questions, please contact the Webmaster.
- Jeff Luce
In today's wrestling, a turn from good guy to bad guy or vice versa is not uncommon. There is generally no logical explanation, other than those in charge of creativity, are at a loss of creativity. There is no build up, and most of the turns we see today are just an old school plot device thrown together. It wasn't always this way. In fact, in our day, a turn was something. It was special. One either wound up extremely disappointed when his/her favorite turned bad, or cheered wildly when a bad guy seen the error of his ways and joined the good side. Babyface and heel: what were they? These are Kayfabe Memories and we had good guys or bad guys; the way it should be.
Like what was alluded to in the introductory paragraph, a turn should elicit some strong emotions. It should leave a fan seething and chomping at the bit for the good guy to enact his revenge. That is exactly the emotions that fed me when Bob Armstrong did the inexplicable act of turning on "The Tennessee Stud" Ron Fuller. Mad, you better believe me and thousands of other Southeastern Championship Wrestling fans were mad. Why would Bob Armstrong do this? What possible explanation could this man have for committing the ultimate sin? He turned on Ron Fuller, and we were incensed.
At the time, Bob Armstrong was one of the top three most popular wrestlers in Southeastern. He was the reigning Southeastern Heavyweight Champion and number one contender to the NWA World Heavyweight Championship, held by "Nature Boy" Ric Flair. However this time, when Flair made his title defense in Mobile, AL, it was "The Tennessee Stud" Ron Fuller who was getting the title shot. Armstrong's attitude showed some slight changes. There was an air of bitterness in his interviews, but it wasn't much to pay any attention to. He was, after all, going to serve as special guest referee for this World Championship match, and we knew that Ron was going to get a fair shake.
OK, now we move to Saturday. Only those in Mobile knew what happened a few short nights before. Everyone tuned into Southeastern Championship Wrestling anticipating that maybe "The Tennessee Stud" is the new NWA World Heavyweight Champion. Then the opportunity to see the footage came, Ron had Flair reeling. Then he locked in the infamous "Fuller Toe Hold." "Oh yeah," myself, and I'm sure thousands of others were yelling in unison. Bob was in position to make the call. He asked Flair if he wanted to concede, and just at the moment when it should have been time to celebrate a new champion: BAM. Huh? Out of the blue, "The Bullet was born." The special guest referee, who was supposed to provide his best friend a fair shake in his quest for the NWA World Heavyweight Championship, started dropping elbows on "The Tennessee Stud." I am quite certain that there were tens of thousands of fans watching at home who did what I did: cursed Armstrong and threw their soda towards the television. How could you do that Bob Armstrong? More...
If you'd like to discuss the SECW region with other fans, please visit the KM Message Board

KM DVD/VHS Store 4
Click here to purchase DVD or VHS products direct from the official distributors.
KM Replica Masks 4
Click here to purchase pro quality replica wrestling masks of all your favorite old school masked wrestlers.
KM Store 4
The KM Store now features products featuring the GCW logo as well as some other very cool images. To see what's new and to purchase T-Shirts, ball caps, mouse pads and more, click here.
KM Message Board 4
Want to chat with other fans of regional wrestling? This message board has forums for over two dozen promotions. Click here.
KM Belt Gallery 4
This section contains an extensive title belt gallery... images of heavyweight, tag, U.S. and various regional title belts. To view it, click here.
Old School Tape Review 4
Reviews of various PPV's, commercial tapes and regional wrestling TV shows are available in this section. To read more, click here.
Website designed & maintained by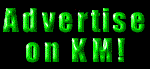 Thanks for visiting!