Regional Territories 4
This section contains monthly articles on over two dozen territories. To relive those wonderful days of old, click here.
Wrestlers 4
Enter this section for bios/profiles of various wrestlers from the regional days. To find more out about your favorite pro wrestler, click here.
Stories 4
This section contains stories from the pros themselves told exclusively to Kayfabe Memories. Want to know more as told from the wrestlers themselves? Click here.
Old School Book Reviews4
Click here to find various book reviews from old school wrestlers.
KM Links 4
For tons of links to old school related sites, click
here
.
KM Micro Wrestlers4
What are Micro Wrestlers? Click here
to find out.
KM Interviews... 4
Click here to read exclusive interviews with stars from the regional territories.
www.kayfabememories.com is © 2004 AtomDesigns. All promotional art, characters, logos and other depictions are © their respective owners. All Rights Reserved.
All contents save Wrestler Stories are © Kayfabe Memories.
Website designed and maintained by AtomDesigns © 2004 . If you experience any problems with this site or have any questions, please contact the Webmaster.
Dennis Condrey and Randy Rose
- Jeff Luce
There have been many outstanding tag teams to compete in Southeastern Championship Wrestling: Jerry Stubbs and Arn Anderson, Ron and Robert Fuller, Jimmy Golden and Robert Fuller, The New Zealand Sheepherders and Bob and Brad Armstrong to name a few. All fine teams no doubt, but one team defines tag team wrestling in the region like no other: Dennis Condrey and Randy Rose. No tag team can lay claim to as many Southeastern tag team championships as Condrey and Rose.
Randy Rose had been in the area for quite awhile reeking havoc. As the masked "Super Pro" Rose had been teaming with "Cowboy" Ron Bass, and they were involved in a feud with Bob and Brand Armstrong. Rose was working under a mask because he lost a loser leave to Bob Armstrong. To the best of my knowledge Rose was never unmasked; he just started working as himself after the loser leave stipulation was fulfilled.
Dennis Condrey came into the area fresh off a reign as Georgia heavyweight champion. Condrey had a long history of success in various Tennessee promotions also, but this was his first time in Southeastern. The cousins quickly snapped up their first of an eventual eight tag team title reigns.
They quickly entered into a feud with the Armstrongs. They tried to make an example out of the young rookie Brad Armstrong in particular. They interrupted a ceremony in Brad's honor, which he was being awarded the NWA Rookie of the Year award for 1980. This seemed to get this feud in full gear.
Condrey and Rose kept a strangle hold on the tag belts for quite along time, and even entered into an alliance with Mr. Saito, which Bob Armstrong dubbed "The Terrific Trio." Along with a solid feud with the Armstrongs, a new tag team entered the scene to challenge Condrey and Rose for the tag team championships: Norvel Austin and Paul Orndorff. It was getting to the point that neither of the challenging teams could get a fair shake. Anytime Condrey and Rose seemed to be on the verge of defeat, Saito would be there to make sure it didn't happen. On the flip side, Condrey and Rose were always at the ready to lend an assist for Saito.
Condrey and Rose were so set on dominating the territory that they would interject themselves into everything they could. They were responsible for Jerry Stubbs turning back to a good guy. During a match pitting Stubbs against Brad Armstrong for the United States Jr. Heavyweight title, Condrey and Rose brought a 2X4 to the ring and handed it to Stubbs to use on Armstrong. Stubbs wanted nothing to do with it and tossed the board away.
This angered Condrey and Rose, who jumped in the ring and clobbered Stubbs with the 2X4. Armstrong and a couple other wrestlers quickly forced Condrey and Rose away from the ring, but the precedent was set. Don't turn your back on Condrey and Rose.
A couple of weeks later Austin and Orndorff did the seemingly impossible; they dethroned the champions. Austin and Orndorff were an exciting tag team, but honestly just a make shift team at best. They did not hold the belts for very long, and soon Condrey and Rose were back in the saddle again. During the rest of the spring and into the summer of 1981, Condrey and Rose traded the tag titles back and forth with the Armstrongs, but they weren't without the belts for very long. They also had an awesome feud with Mr. Olympia and Ken Lucas.
After about nine months in the area, Dennis Condrey left the area, but Rose stayed on for a little while. It seemed that Condrey and Rose's reign of terror was over. But was it? It was nearly a year gone by, and Condrey and Rose had since been replaced by The New Zealand Sheepherders as the dominate team in the area. The Sheepherders were involved in a hellacious feud with the Fullers and Jimmy Golden. The feud had gotten so bitter that against his brother and cousin's wishes, Robert enlisted the aid of Randy Rose to combat the Sheepherders.
More...
If you'd like to discuss the SECW region with other fans, please visit the KM Message Board

KM DVD/VHS Store 4
Click here to purchase DVD or VHS products direct from the official distributors.
KM Replica Masks 4
Click here to purchase pro quality replica wrestling masks of all your favorite old school masked wrestlers.
KM Store 4
The KM Store now features products featuring the GCW logo as well as some other very cool images. To see what's new and to purchase T-Shirts, ball caps, mouse pads and more, click here.
KM Message Board 4
Want to chat with other fans of regional wrestling? This message board has forums for over two dozen promotions. Click here.
KM Belt Gallery 4
This section contains an extensive title belt gallery... images of heavyweight, tag, U.S. and various regional title belts. To view it, click here.
Old School Tape Review 4
Reviews of various PPV's, commercial tapes and regional wrestling TV shows are available in this section. To read more, click here.
Website designed & maintained by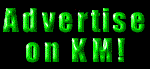 Thanks for visiting!