Regional Territories 4
This section contains monthly articles on over two dozen territories. To relive those wonderful days of old, click here.
Wrestlers 4
Enter this section for bios/profiles of various wrestlers from the regional days. To find more out about your favorite pro wrestler, click here.
Stories 4
This section contains stories from the pros themselves told exclusively to Kayfabe Memories. Want to know more as told from the wrestlers themselves? Click here.
Old School Book Reviews4
Click here to find various book reviews from old school wrestlers.
KM Links 4
For tons of links to old school related sites, click
here
.
KM Micro Wrestlers4
What are Micro Wrestlers? Click here
to find out.
KM Interviews... 4
Click here to read exclusive interviews with stars from the regional territories.
www.kayfabememories.com is © 2004 AtomDesigns. All promotional art, characters, logos and other depictions are © their respective owners. All Rights Reserved.
All contents save Wrestler Stories are © Kayfabe Memories.
Website designed and maintained by AtomDesigns © 2004 . If you experience any problems with this site or have any questions, please contact the Webmaster.
- Edward Pardue

If you ever had the pleasure to watch a Smoky Mountain Wrestling television show, you understand that it was as far from the WWF or WCW as you could get. While the bigger companies worked in major arenas and such, SMW ran mainly in high school gyms, so it didn't have the " feel " of being glossed over. The only way I can explain it to those who NEVER saw it (shame on

you!) is to make the analogy of a current JCP product running in 1995. No doubt about it, SMW and JCP were two of my favorite regional promotions, and in many ways Jim Cornette brought a style of wrestling and television back to life for a few years.

Smoky Mountain Wrestling is known as the place where the "rising stars" of Chris Candido, Chris Jericho, Kane (working under the moniker "Unabomb") and Lance Storm were first given a break. Always looking to give my public a little something different, I wish to talk about the guys that DIDN'T get a break in SMW because they were strictly "enhancement talent" or the dreaded "J" word we are not allowed to say, due to political correctness.

Enhancement talent, for the people NOT in the know, are the guys you see on TV every week, who NEVER win a match. SMW had some good enhancement talent at various points in time, and I would like to give them their moment in the sun here in my column.

George South. Is there any place this guy HASN'T wrestled? George worked for a few months in late 1994 and early 1995 for Cornette. His claims to fame in SMW were a tag team match with Robert Gibson as his partner against the dastardly "Dynamic Duo" of Al Snow and Unabomb and a great one on one match with Bobby Fulton in May of 1995. The match with Fulton was extremely competitive, with George getting lots of offense in, until Fulton rolled him up for the one-two-three. George showed WHY promoters were willing to use him in every match he ever wrestled, but these two really stand out in my mind. George left SMW shortly after that to return to an indy in the Carolinas where he was a multi-time title holder.

Scotty McKeever. West Virginia's favorite son worked television for SMW as enhancement talent. Scotty never really got to show his stuff, because he is extremely talented (trust me... I KNOW WHAT I'M TALKING ABOUT!) but it was a payday and air time, so I don't think Scott minded too much about putting the guys over. McKeever is a true professional both in the ring and behind the curtain. His moment of fame was a sixteen man "royal rumble" style match, in which he was one of the last four men in the ring.

Chris Hamrick. "High Flyin'" Chris Hamrick or "Confederate Currency", take your pick. It was a payday, and a few laughs for him (hanging with Ricky Morton was the best thing about working for SMW he once said). In ALL of wrestling, I don't think I have ever seen a better "bump taker" than Chris. Hamrick while a very capable aerial performer, was IMO not much of a mat wrestler. That is probably the only reason his star didn't shine as bright as it should have in SMW.

The Hardy Boys. "S" not "Z". B-O-Y-S! This was before they were "over." Matt and Jeff toiled on television for SMW and even dropped matches to The Headbangers! (I can hear Hardy fans everywhere calling for my blood...lol.) Self trained, they hooked up with a promoter here in NC, who got them shots with the WWF, and then it was on to SMW.

During their stay in SMW and after, they promoted their own shows called O.M.E.G.A. wrestling (which produced stars such as Steve Corino, The Hurricane, Lita and Shannon Moore) and continued on to stardom in the WWF/ WWE. Same with Hamrick here, they were extremely talented in the air, but not much beyond that.

Well Dunn. Hmmm. An odd thing. Timothy WELL and Steven DUNN (formerly Rex King and Steve Doll in the Southern Rockers and Simply Divine )... I can't really classify them as "enhancement talent." They were WWF "stars" (read JOBBER TO THE STARS ) who came to SMW for more airtime. They were used to get over Chris Jericho and Lance Storm, which I think they accomplished quite nicely.

More...

If you'd like to discuss the SMW region with other fans, please visit the KM Message Board

KM DVD/VHS Store 4
Click here to purchase DVD or VHS products direct from the official distributors.
KM Replica Masks 4
Click here to purchase pro quality replica wrestling masks of all your favorite old school masked wrestlers.
KM Store 4
The KM Store now features products featuring the GCW logo as well as some other very cool images. To see what's new and to purchase T-Shirts, ball caps, mouse pads and more, click here.
KM Message Board 4
Want to chat with other fans of regional wrestling? This message board has forums for over two dozen promotions. Click here.
KM Belt Gallery 4
This section contains an extensive title belt gallery... images of heavyweight, tag, U.S. and various regional title belts. To view it, click here.
Old School Tape Review 4
Reviews of various PPV's, commercial tapes and regional wrestling TV shows are available in this section. To read more, click here.
Website designed & maintained by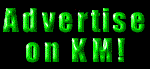 Thanks for visiting!