Regional Territories 4
This section contains monthly articles on over two dozen territories. To relive those wonderful days of old, click here.
Wrestlers 4
Enter this section for bios/profiles of various wrestlers from the regional days. To find more out about your favorite pro wrestler, click here.
Stories 4
This section contains stories from the pros themselves told exclusively to Kayfabe Memories. Want to know more as told from the wrestlers themselves? Click here.
Old School Book Reviews4
Click here to find various book reviews from old school wrestlers.
KM Links 4
For tons of links to old school related sites, click
here
.
KM Micro Wrestlers4
What are Micro Wrestlers? Click here
to find out.
KM Interviews... 4
Click here to read exclusive interviews with stars from the regional territories.
www.kayfabememories.com is © 2004 AtomDesigns. All promotional art, characters, logos and other depictions are © their respective owners. All Rights Reserved.
All contents save Wrestler Stories are © Kayfabe Memories.
Website designed and maintained by AtomDesigns © 2004 . If you experience any problems with this site or have any questions, please contact the Webmaster.
- Edward Pardue
First of all, Happy New Year to Everyone. I'd just like to say that I will be doing the SMW column AND the Jim Crockett Promotions region from now on. ( Look, cheap plugs work for Foley... ANYWAY!!! )
Smoky Mountain Wrestling had some hot feuds, but NONE came close to the white hot saga between The Heavenly Bodies and The Rock and Roll Express. I never really cared for Stan Lane but Prichard and Del Ray were the most awesome combination Jim Cornette managed, with the exception of Dennis Condrey and Bobby Eaton.
The feud between Cornette and the Rock and Rollers started in the early eighties. At the time, Cornette was managing Dennis and Bobby. No matter who Cornette took under his wing, a feud with Ricky and Robert was not far away. Prichard and Del Ray were the only team in SMW history who could work a great program with the Rock and Roll. Combining Prichard's over a decade of in ring experience with Del Ray's ability to defy gravity, Cornette put the right combination together to upset, befuddle and antagonize our heroes Morton and Gibson.
Comparing what they did to each other to actual scientific wrestling would be like comparing a flame thrower to a bic lighter. Yeah, there was great technical wrestling involved (as fire is involved in both a bic and and a flame thrower ) but, those guys gave SO MUCH MORE! The in ring hatred these four men professed is the stuff movies are made of. Kind of like THE GOOD (RnR), THE BAD (BODIES) AND THE UGLY (CORNETTE... sorry, Jimbo).
Cornette booked several classic matches between the two teams in the near two year run Prichard and Del Ray were a combo. A sixty minute draw was result of one particular match. That lead to iron team matches, which lasted an hour, and the victor was determined by whoever got the most pinfalls in the sixty minute time limit. The Rock and Roll Express, showing some of the best matches of the year for ANY promotion ( and this was the same year Hall and Michaels had a classic ladder match at Wrestlemania, btw... ), defeated the Bodies soundly to show that THE HEART OF ROCK AND ROLL WAS STILL BEATIN'!!!
More...
If you'd like to discuss the SMW region with other fans, please visit the KM Message Board

KM DVD/VHS Store 4
Click here to purchase DVD or VHS products direct from the official distributors.
KM Replica Masks 4
Click here to purchase pro quality replica wrestling masks of all your favorite old school masked wrestlers.
KM Store 4
The KM Store now features products featuring the GCW logo as well as some other very cool images. To see what's new and to purchase T-Shirts, ball caps, mouse pads and more, click here.
KM Message Board 4
Want to chat with other fans of regional wrestling? This message board has forums for over two dozen promotions. Click here.
KM Belt Gallery 4
This section contains an extensive title belt gallery... images of heavyweight, tag, U.S. and various regional title belts. To view it, click here.
Old School Tape Review 4
Reviews of various PPV's, commercial tapes and regional wrestling TV shows are available in this section. To read more, click here.
Website designed & maintained by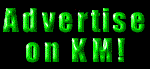 Thanks for visiting!