Regional Territories 4
This section contains monthly articles on over two dozen territories. To relive those wonderful days of old, click here.
Wrestlers 4
Enter this section for bios/profiles of various wrestlers from the regional days. To find more out about your favorite pro wrestler, click here.
Stories 4
This section contains stories from the pros themselves told exclusively to Kayfabe Memories. Want to know more as told from the wrestlers themselves? Click here.
Old School Book Reviews4
Click here to find various book reviews from old school wrestlers.
KM Links 4
For tons of links to old school related sites, click
here
.
KM Micro Wrestlers4
What are Micro Wrestlers? Click here
to find out.
KM Interviews... 4
Click here to read exclusive interviews with stars from the regional territories.
www.kayfabememories.com is © 2004 AtomDesigns. All promotional art, characters, logos and other depictions are © their respective owners. All Rights Reserved.
All contents save Wrestler Stories are © Kayfabe Memories.
Website designed and maintained by AtomDesigns © 2004 . If you experience any problems with this site or have any questions, please contact the Webmaster.
St. Louis NWA Title Defenses
- John Edwards
I, along with thousands of other St. Louisians loved it when there was a NWA Title defense at the old Kiel Auditorium or the St. Louis Arena. Judging from my research both on the KM site and others (referenced later), the NWA World Champion made, on average, about 10 trips a year to St. Louis. During the golden era of kayfabe, this means there were approximately 200 NWA Title defenses in St. Louis between 1965-1985. Of the all the many memorable matches held in St. Louis over the years, here are the most memorable: the actual NWA title changes that occurred in St. Louis:
ü November 9, 1956 – Lou Thesz defeats Whipper Billy Watson
ü January 9, 1959 – Pat O'Connor defeats Dick Hutton
ü January 7, 1966 – Gene Kiniski defeats Lou Thesz (ending Thesz's last NWA title reign)
ü June 10, 1983 – Harley Race defeats Ric Flair (I saw that one! Begins Race's last NWA title reign, a reign he really didn't want by this time in his career.)
ü August 7, 1986 – Ric Flair defeats Dusty Rhodes (the NWA belt by this time is a company belt for Jim Crockett Promotions)
(Interesting to note that after the 1966 title change, the locations of changes were moved around to other cities in the NWA: Houston, Tampa, Toronto, Kansas City, and Dallas all received a title change. This would be like Sam Muchnick, to spread the wealth among his brother promoters to keep peace in the NWA family).
What made title defenses in St. Louis so special? Many factors, including payoffs, status, and quality of opponents.
First and foremost for the workers: payoffs. Wrestlers work for money. Sam Muchnick was legendary for his honesty at payoff time. Plus, St. Louis was always a great wrestling town; on average 7-9,000 fans would be on hand for a title match. (depending, of course, on who was in the match, weather on Friday night, level of heat in the feud, etc). Given the standard payout for the NWA Champion (documented in Thesz's book Hooker, and by cancelled paycheck information available on the KM site), St. Louis would be a lucrative payday, handled fairly and honestly by Sam. Certainly much more lucrative than, say, Columbia, MO or Johnson City, TN. Nothing against "tank towns" as Thesz would call them, they weren't even close to St. Louis in terms of fan base and payoffs.
Also important to the worker: career status. Through anecdotal evidence from Harley Race (www.harleyrace.com) and Dory Funk Jr, (www.dory-funk.com), headlining in St. Louis on a Friday night was about as big as it got for a professional wrestler in the 1960s, 1970s, and 1980s. To headline the Kiel meant that you were at the top of your game and were facing a top-notch opponent in front of a packed house (with a lucrative and honest payoff later).
Quality of opponents: Another aspect of what made NWA Title defenses in St. Louis special was the quality of opponents. On any given Friday night, the top stars of Dallas (the Von Erichs), Kansas City (Central States), Florida (Briscoes), Amarillo (Funks), the AWA, the WWA, and the WWWF would be on hand in St. Louis. For an NWA Champion, this was always an opportunity to have a first class match against an opponent you might not work with normally. For example, Superstar Billy Graham and Bob Backlund both made appearances in St. Louis during their WWWF reigns.
Unlike today's product, where the belt is defended on TV regularly and title changes are no special event anymore, a NWA title defense at the Kiel was a special event, built up by weeks of promotion on Wrestling at the Chase. Even when the belt changed hands in an offsite location, footage and an announcement were always made – when this only happened every 2-3 years, this was a huge event.
More...
If you'd like to discuss the St. Louis region with other fans, please visit the KM Message Board

KM DVD/VHS Store 4
Click here to purchase DVD or VHS products direct from the official distributors.
KM Replica Masks 4
Click here to purchase pro quality replica wrestling masks of all your favorite old school masked wrestlers.
KM Store 4
The KM Store now features products featuring the GCW logo as well as some other very cool images. To see what's new and to purchase T-Shirts, ball caps, mouse pads and more, click here.
KM Message Board 4
Want to chat with other fans of regional wrestling? This message board has forums for over two dozen promotions. Click here.
KM Belt Gallery 4
This section contains an extensive title belt gallery... images of heavyweight, tag, U.S. and various regional title belts. To view it, click here.
Old School Tape Review 4
Reviews of various PPV's, commercial tapes and regional wrestling TV shows are available in this section. To read more, click here.
Website designed & maintained by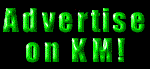 Thanks for visiting!