Regional Territories 4
This section contains monthly articles on over two dozen territories. To relive those wonderful days of old, click here.
Wrestlers 4
Enter this section for bios/profiles of various wrestlers from the regional days. To find more out about your favorite pro wrestler, click here.
Stories 4
This section contains stories from the pros themselves told exclusively to Kayfabe Memories. Want to know more as told from the wrestlers themselves? Click here.
Old School Book Reviews4
Click here to find various book reviews from old school wrestlers.
KM Links 4
For tons of links to old school related sites, click
here
.
KM Micro Wrestlers4
What are Micro Wrestlers? Click here
to find out.
KM Interviews... 4
Click here to read exclusive interviews with stars from the regional territories.
www.kayfabememories.com is © 2004 AtomDesigns. All promotional art, characters, logos and other depictions are © their respective owners. All Rights Reserved.
All contents save Wrestler Stories are © Kayfabe Memories.
Website designed and maintained by AtomDesigns © 2004 . If you experience any problems with this site or have any questions, please contact the Webmaster.
Looking Back: Wrestling at the Chase (WATC) Sunday September 9, 1979
- John Edwards
1979 was truly a great time to be a fan in St. Louis . At that time, St. Louis was a "Who's Who" of the professional wrestling industry. The NWA alliance was still strong (maybe at its peak) with member promotions throughout the United States and the world. Active in St. Louis at the time: Harley Race, the NWA Champion (and part owner of the Central States territory, later part owner of St. Louis), Dick the Bruiser, Dick Murdoch, Pat O'Connor, Ric Flair, King Kong Brody, Kevin, Kerry, and David Von Erich, Dory Funk, Jr, Terry Funk, Jack Brisco, and perennial favorites such as Bulldog Bob Brown, Roger Kirby and others. In addition to our regularly appearing favorites, we were also treated to special attractions, such as Andre the Giant. During this time, I was an avid 15 year old total and complete mark, who never missed an episode of WATC "at 11 on 11". Sometimes I watched both the late Saturday night episode (followed by the Three Stooges) and the same episode on Sunday morning. (Come on guys, admit it, you did the same, right?)
So it is against this backdrop of fond memories that I recently viewed an episode of "Classic St. Louis Wrestling": Sunday September 9, 1979 . At this time, Harley Race was your defending NWA World Heavyweight Champion. Dirty Dick Murdoch was your defending Missouri State Heavyweight Champion. The local WATC broadcast was hyping the next big house show at the Kiel Auditorium set for Friday September 14, 1979 in which King Kong (Bruiser) Brody would square off against Andre the Giant. Other features included a 16-man Wrestle Royal and Dick Murdoch defending the Missouri Title against Dory Funk, Jr. Quite the "off" card, as the NWA Champion was not featured at the event. Now, off to the matches!
Note: At the beginning of the broadcast, announcer Larry Matysik announced that it was the 30th anniversary of the death of former great Ray Steele in an auto accident in 1949. This is one of the things that separated Larry and the St. Louis scene from so many other territories. Larry (and the St. Louis Wrestling Club) treated wrestling as a totally legitimate sport, complete with history and traditions and legendary figures. Along the same lines as how Larry never failed to compare the new stars such as the Von Erichs with past greats such as Lou Thesz, Whipper Billy Watson, Ed "Strangler" Lewis, Buddy Rogers, Johnny Valentine, etc.
Opening Match: One fall, 10 minute time limit
Chris Curtis, 239, Green Bay , Wisconsin vs. Bulldog Bob Brown, 242, Winnipeg , Canada
Referee: Charles Venater
Ah, for the good old days of TV squashes. You knew even before your ring announcer Mickey Garigiola announced anything who would get the duke in this one. Although young Mr. Curtis gave a good account of himself - he controlled the first two minutes with an armbar. Yes, two minutes of armbar, and the crowd ate it up. See, the pro that Bob Brown was, he shrieked in pain and sold it like his arm was being ripped out of the socket. Plus, Brown kept up a running commentary with the crowd at ringside. Psychology 101 lesson that all wrestlers today should watch. It should be mandatory in training schools. Not to be outdone, Curtis did his own excellent job of selling the chops, slashes, and gouges of the Bulldog. In the end, Bulldog prevailed with 2 backbreakers and the dreaded leg drop.
Winner: Bulldog Bob Brown in with
the leg drop
First Main Event: One fall, 20 minute time limit
Steve Hall, 235, Milwaukee , Wisconsin vs. Ron Starr, 237, Charlotte , North Carolina
Referee: Lee Warren
In all my St. Louis wrestling memories, I don't recall too much of Ron Starr. Apparently at this time, he was getting (I guess) a push. He was in the TV main on WATC and even got TV promo time, which was a rarity in St. Louis for someone who was not a major star. The match featured mat wrestling early on, complete with clean breaks and applause from the studio audience. Larry Matysik put over that Starr had main evented "all over the west coast" - making sure to mention San Francisco , Portland , the Cow Palace , etc. In the interests of balance, Larry also totally kayfabed the audience by claiming that Steve Hall "had wins all over the midwest". He somehow said that with a straight face. In the end, Ron Starr prevailed with the "side suplex" - also known as the Russian Leg Sweep.
Winner: Ron Starr in with the side suplex
Promo: Ron Starr - Not a very good promo - somewhat uninspired. Partially driven by the fact that Ron Starr was not feuding with anyone. No "heat" involved. Interesting though, because Larry actually asked questions of Starr, and got answers - unlike so many promos where the wrestler just screams into the camera. Almost an "interview". Starr gave nice guy "face-ish" answers while mostly looking at the ground. Wonder if he was set for a push and maybe it got derailed?
More...
If you'd like to discuss the St. Louis region with other fans, please visit the KM Message Board

KM DVD/VHS Store 4
Click here to purchase DVD or VHS products direct from the official distributors.
KM Replica Masks 4
Click here to purchase pro quality replica wrestling masks of all your favorite old school masked wrestlers.
KM Store 4
The KM Store now features products featuring the GCW logo as well as some other very cool images. To see what's new and to purchase T-Shirts, ball caps, mouse pads and more, click here.
KM Message Board 4
Want to chat with other fans of regional wrestling? This message board has forums for over two dozen promotions. Click here.
KM Belt Gallery 4
This section contains an extensive title belt gallery... images of heavyweight, tag, U.S. and various regional title belts. To view it, click here.
Old School Tape Review 4
Reviews of various PPV's, commercial tapes and regional wrestling TV shows are available in this section. To read more, click here.
Website designed & maintained by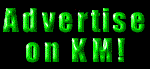 Thanks for visiting!