Regional Territories 4
This section contains monthly articles on over two dozen territories. To relive those wonderful days of old, click here.
Wrestlers 4
Enter this section for bios/profiles of various wrestlers from the regional days. To find more out about your favorite pro wrestler, click here.
Stories 4
This section contains stories from the pros themselves told exclusively to Kayfabe Memories. Want to know more as told from the wrestlers themselves? Click here.
Old School Book Reviews4
Click here to find various book reviews from old school wrestlers.
KM Links 4
For tons of links to old school related sites, click
here
.
KM Micro Wrestlers4
What are Micro Wrestlers? Click here
to find out.
KM Interviews... 4
Click here to read exclusive interviews with stars from the regional territories.
www.kayfabememories.com is © 2004 AtomDesigns. All promotional art, characters, logos and other depictions are © their respective owners. All Rights Reserved.
All contents save Wrestler Stories are © Kayfabe Memories.
Website designed and maintained by AtomDesigns © 2004 . If you experience any problems with this site or have any questions, please contact the Webmaster.
- Rich Tito
CHICAGO AMPHITHEATRE

AUGUST 11, 1967
Heading toward the Amphitheatre that night I had the feeling that this would not be an ordinary night of wrestling. We had a rematch for the AWA title between Verne Gagne and the great Lou Thesz. A battle of the villain tag teams with Larry Hennig & Harley Race against Bobby Heenan's team of Chris Markoff & Angelo Poffo, plus a special attraction between Johnny Valentine and Dick the Bruiser.
The first match of the card was a pretty good match where popular Frenchman Rene Goulet put away The Assassin, who was Joe Tomasso that night. The second match was The Destroyer, Dick Beyer, beating young Eddie Sharkey with the figure four leglock. Beyer would later become Dr. X in the AWA rings.
Bobby Heenan was at ringside for the next match when he managed Blackjack Lanza against veteran star Wilbur Snyder. This was Lanza's first appearance as Blackjack Lanza in Chicago. The card before he wrestled John Powers as babyface Cowboy Jack Lanza. Now that Lanza had Heenan in his corner that made him twice as dangerous and Lanza would become a solid star in Chicago for years to come. Snyder had Lanza trapped a few times in some great holds but Heenan would interfere. When Snyder had Lanza caught in his abdominal stretch, Heenan couldn't take anymore and jumped into the ring to break up the hold. This action gave Snyder the victory as Lanza was disqualified.
Next was a battle of the bullies as Dick the Bruiser met Johnny Valentine. They both hit each other with everything they had and Bruiser finally gained the pin after an atomic drop off the rope.
Battle of the heel tag teams as Larry Hennig and Harley Race met The Devils Duo, Chris Markoff and Angelo Poffo. Heenan came out again to manage the Duo. The fans actually cheered Hennig & Race in this match because of Heenan's presence with the Duo. It ended when Hennig & Race were disqualified when they brought Heeanan in to the action.
AWA Title showdown between what I think may have been the two greatest wrestlers that I have ever seen. Verne Gagne put the title on the line against the legendary Lou Thesz. It was a great scientific battle as they matched hold for hold with Thesz playing a subtle heel role every once in a while. The wrestlers fell out of the ring and Gagne got back in before Thesz who was counted out. Thesz took the mike and explained that Illinois may have been the only state with a 10 count for being out of the ring. Thesz then stated that he was used to a 20 count and got mixed up. There are some record books that give Gagne a clean victory over Thesz but they are wrong. Thesz lost on a count out of the ring.
SEPTEMBER 2, 1967
Another big night of wrestling started out with Stan Kowalski, The Big K, getting a victory over Al Kashey. Next up, Yukon Moose Cholak beat veteran Jack Pesek with a big splash, which he called his "El Squasho". More...
If you'd like to discuss the WWA-Indianapolis region with other fans, please visit the KM Message Board

KM DVD/VHS Store 4
Click here to purchase DVD or VHS products direct from the official distributors.
KM Replica Masks 4
Click here to purchase pro quality replica wrestling masks of all your favorite old school masked wrestlers.
KM Store 4
The KM Store now features products featuring the GCW logo as well as some other very cool images. To see what's new and to purchase T-Shirts, ball caps, mouse pads and more, click here.
KM Message Board 4
Want to chat with other fans of regional wrestling? This message board has forums for over two dozen promotions. Click here.
KM Belt Gallery 4
This section contains an extensive title belt gallery... images of heavyweight, tag, U.S. and various regional title belts. To view it, click here.
Old School Tape Review 4
Reviews of various PPV's, commercial tapes and regional wrestling TV shows are available in this section. To read more, click here.
Website designed & maintained by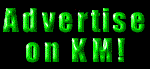 Thanks for visiting!