Regional Territories 4
This section contains monthly articles on over two dozen territories. To relive those wonderful days of old, click here.
Wrestlers 4
Enter this section for bios/profiles of various wrestlers from the regional days. To find more out about your favorite pro wrestler, click here.
Stories 4
This section contains stories from the pros themselves told exclusively to Kayfabe Memories. Want to know more as told from the wrestlers themselves? Click here.
Old School Book Reviews4
Click here to find various book reviews from old school wrestlers.
KM Links 4
For tons of links to old school related sites, click
here
.
KM Micro Wrestlers4
What are Micro Wrestlers? Click here
to find out.
KM Interviews... 4
Click here to read exclusive interviews with stars from the regional territories.
www.kayfabememories.com is © 2004 AtomDesigns. All promotional art, characters, logos and other depictions are © their respective owners. All Rights Reserved.
All contents save Wrestler Stories are © Kayfabe Memories.
Website designed and maintained by AtomDesigns © 2004 . If you experience any problems with this site or have any questions, please contact the Webmaster.
- Mike DuPree
I again take pen in hand and chronicle the exploits of the well-known sub culture known as WWA Championship Wrestling, and… aw, fergitaboutit…let's focus on the 40th anniversary of Bruiser and Wilbur Snyder starting up their WWA promotion.
In the March 19th, 1964 Indianapolis Star newspaper, an article in the sports page announced that there would be a tourney to decide the new tag team champions of the Balk Estes AWA promotion based out of Indianapolis, belts that had been held by Dick the Bruiser and Snyder for some months. It was noted that Stanley Blackburn, AWA president "had relieved Snyder and Bruiser of the tag crown since they had recently taken out a licenses to book and promote wrestling cards. Blackburn had ruled that a promoter cannot remain active as a wrestler." Thus the Indianapolis area was notified of Bruiser and Snyder's intent to operate their own promotion for the first time. Another ad a few days before their initial show on April 25th, 1964 at the Southside Armory stated, "Headlining the inaugural event are the two men instrumental in setting up their new promotion, Dick the Bruiser and Wilbur Snyder." The main event slated for the show included Snyder and Bruiser defending their tag team title against the Miller Brothers, Bill and Dan.
In the April 24th Indianapolis Times newspaper, there was a picture featured of Bruiser with his newly won WWA belt that he had taken from Fred Blassie in LA two nights before, and the April 25th Star had an article stating, "Dick the Bruiser and Wilbur Snyder, fresh from a successful St.Louis appearance Friday night; will defend their World Wrestling Alliance tag team championship at the Southside Armory, 2015 South Pennsylvania Street, Saturday night." With that it was official; Bruiser and Snyder's promotion was to be under the WWA banner, although the California WWA actually stood for Worldwide Wrestling Associates. The promotion was listed as being owned by Louise Afflis, Bruiser's wife, and having mid carder Johnny King listed as the matchmaker. The full first card was: WWA tag team title- Bruiser and Snyder defending the tag title against the Millers, Joe Brunetti vs. Nicoli Volkoff (Steve Gob), The Mongol vs. Roger Kirby, Angelo Poffo vs. Tony Parente, and Billy Goelz vs. Ray Gordon. Leo Newman was brought in as the manager of the heels. The main went to a 60 minute draw, with Bill Miller stopping Snyder in 19 minutes with a backbreaker, Snyder stopping Dan Miller in 24 minutes with a body press before the 60 minute time ran out. "The Millers had the Bruiser and Snyder, who have held the World Wrestling Alliance title six months, on the run during the final 17 minutes and had them close to being pinned when the time ran out." Joe Tangaro pinned Nicoli Volkoff 8 minutes, Mongol stopped Roger Kirby 9 minutes, Lorenzo Parente stopped Angelo Poffo 12 minutes on disqualification, and Billy Goelz drew with Ray Gordon 20 minutes.
The rematch at the Armory on May 9th saw Bruiser and Snyder win over the Millers in a return bout, Angelo Poffo and Joe Brunetti drew 30 minutes, Lorenzo Parente stopped Bill Frazier 12 minutes, Nicoli Volkoff defeated Ray Gordon 19 minutes, and Bobby Managoff won over Dennis Hall in 16 minutes.
All of this was a warm up for the big card held at Victory Field (later renamed Bush Stadium, not to be confused with the current Victory Field now in Indianapolis ) on May 29th, the day before the 500-mile race. The big main event featured Dick the Bruiser defending his WWA belt against the former champ, Fred Blassie. A major promotion was launched in conjunction with the Kroger food-store chain, with discount coupons being issued, hoping to fill out the stadium with 14,000 as had been the rule in the late 50's/early 60's. I might add that Victory Field had been the only major large sized venue in Indianapolis with an explosion at the Fairgrounds in October of 1963, closing the building for major repairs.
On a chilly May night before a disappointing 5,000 fans, Bruiser stopped Fred Blassie on a 3rd fall count out. Snyder and Bob Ellis were counted out against future champs Angelo Poffo and Nicoli Volkoff, managed by Leo Newman, when Joe Brunetti went after Volkoff, entering the ring. Brunetti had gone no contest earlier against Bobby Graham. Bob Whitlow, former Detroit Lions star, won over Bill Miller in 9 minutes on a DQ, Mongol stopped Dennis Hall in 8 minutes, Joe Blanchard drew in 20 minutes with Bobby Managoff, and Marcel Semard and Little Boy Blue stopped Pee Wee Lopez and Chico Santana in a midget's match. More...

KM DVD/VHS Store 4
Click here to purchase DVD or VHS products direct from the official distributors.
KM Replica Masks 4
Click here to purchase pro quality replica wrestling masks of all your favorite old school masked wrestlers.
KM Store 4
The KM Store now features products featuring the GCW logo as well as some other very cool images. To see what's new and to purchase T-Shirts, ball caps, mouse pads and more, click here.
KM Message Board 4
Want to chat with other fans of regional wrestling? This message board has forums for over two dozen promotions. Click here.
KM Belt Gallery 4
This section contains an extensive title belt gallery... images of heavyweight, tag, U.S. and various regional title belts. To view it, click here.
Old School Tape Review 4
Reviews of various PPV's, commercial tapes and regional wrestling TV shows are available in this section. To read more, click here.
Website designed & maintained by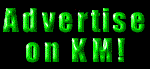 Thanks for visiting!